Posted by Starwest Botanicals on 07-20-2023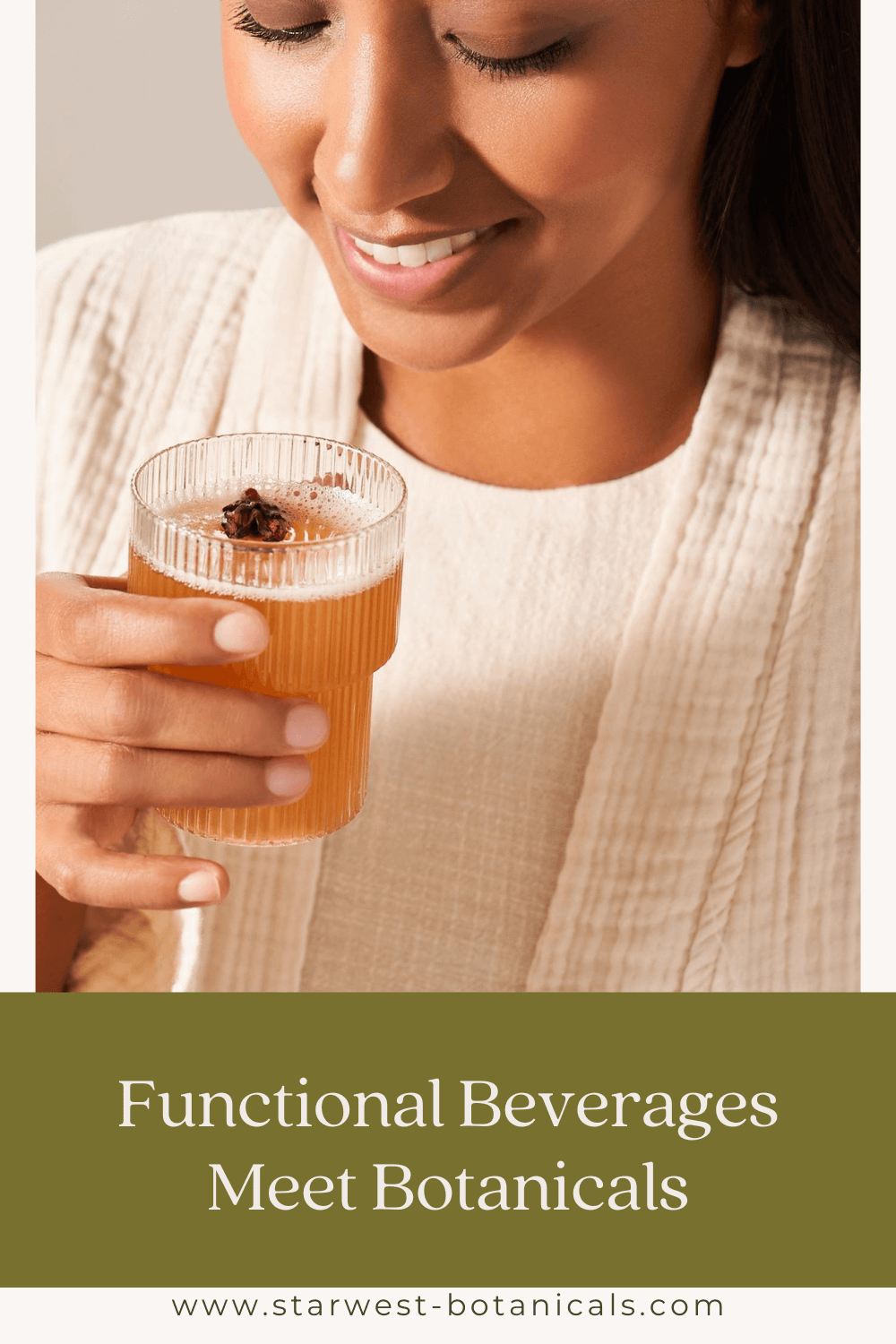 As consumers seek ingredients they perceive will help them achieve their health goals, they're thirsty for functional beverages as a solution. According to The Food Institute, the global functional beverage market is projected to grow at 10.49% annually, reaching $198 billion by 2026 from $120 billion in 2021.
From sports and energy drinks to kombucha and herbal tonics, functional beverages have historically been marketed to a limited audience of health-conscious consumers. Now, brands are reaching a wider audience by introducing new functionalities and ingredients in more widely consumed formats including water, coffee, tea, juice, and soda.
According to Mintel's Functional Drinks report, 81% of adults drink packaged water, either still or sparkling. Beyond hydration, consumers are seeking benefits from waters from digestive health and immunity support to cardiovascular and sleep support. "Enhanced waters can… be a gateway to educating consumers on the benefits of herbal and botanical ingredients, including adaptogens, nootropics, and even hemp-based CBD."
Botanicals add an authentic taste to products, and many are associated with health benefits. Plus, botanical extracts are understood to be "closer to nature" with clean and green ingredients that meet conscientious consumers' demand for products that benefit them, their communities, and the planet.
Experts note that adaptogens' growing popularity in the functional beverage space is spanning across the globe. Adaptogens are natural extracts from herbs, flowers, fruits, and roots, and are believed to support and sustain good health. Popular adaptogens include ginseng, ashwagandha, amla, rhodiola, elderberry, and basil.
Wellness Focus
Product innovation over the years has delivered more convenience and better taste within the functional beverage space. But according to consumer research noted in Kerry's "Functional Forecasting", consumers' primary focus is on the nutritional impact of products and the quality of ingredients in them. While 83% of functional and fortified consumers like to try new flavors, to more than half of them nutrition was even more important than taste.
Beyond flavor, consumers consider botanicals to be energetic, interesting, useful, trustworthy, and safe, according to Kerry's 2021 "Botanical State of Mind" report.
According to Kerry's "Functional Forecasting", immune support ranks as the highest health priority for consumers who focus on functional and fortified beverages. 94% of them state they are trying to live a healthier lifestyle.
For consumers in the U.S. and Canada, according to the same study, the top ten need states as stated by consumers in their study were:
immune support
skin (beauty support)
digestive/gut health
weight management
heart health
hair (beauty support)
energy support
bone health
cognitive/brain health (memory, attention, focus)
protein absorption (sports performance)
Ingredients For Immune Support
Immune support is the top health priority for consumers seeking functional beverages. In fact, according to Kerry's "Functional Forecasting", 53% of global consumers said they would drink beverages that contained ingredients specific to immune support.
Consumers cite certain ingredients they perceive as immune-supporting. Beyond vitamin C, vitamin D blends, omega-3s, and probiotics are the top ingredients on their radar. Turmeric (52% of consumers) and moringa (51% of consumers) fall in the top 10.
Other top botanical ingredients noted as perceived immune-supporting ingredients include green tea extract (50%), ashwagandha (50%), acerola (47%), ginseng extract (47%), reishi mushroom (45%), echinacea (43%), spirulina (42%), curcumin (40%), lion's mane mushroom (39%), elderberry (37%), astragalus (34%), and maca root (34%).
Botanical Beverages On The Rise
Botanically-infused or flavored beverages are answering consumer demand for products supporting overall health and wellness. Botanicals that may help support the immune system, digestion, and cognitive health are being used in many new beverage products.
Popular Product Launches
Suja Juice features an entire product line of "Functional Shots". Just to name a few, their Immunity Defense Shot features ginger, turmeric, echinacea, and live probiotics; while their Immunity Elderberry Shot features zinc, vitamin C from acerola cherry, elderberry, and probiotics. Their Digestion Shot includes ginger, apple cider vinegar, ginseng, and live probiotics.
Olipop promotes itself as "a new kind of soda" made with prebiotics, botanicals, and plant fibers, with claims to support digestive health. Their nostalgic flavors include Classic Root Beer, Cream Soda, and Vintage Cola, plus a whole lot more. Each can provides 9 grams of fiber—32% of the recommended daily value. Ingredients include cassava root fiber, chicory root inulin, jerusalem artichoke inulin, nopal cactus, calendula flower, kudzu root, marshmallow root, slippery elm bark, and more!
Poppi, another better-for-you soda brand, uses the slogan "Be gut happy, be gut healthy". Their sodas contain apple cider vinegar, a source of probiotics, but have been flavored to help mask its strong taste. They also claim benefits beyond healthy digestion, from a stronger immune system to a clearer complexion.
Our Wholesalers Innovating With Botanicals
We're highlighting a couple of our wholesalers who are innovating with botanicals in the functional beverage space. Watch out for our Merchant Stories coming soon to our website, which will highlight more of our wholesalers.
Sun and Soil Juice's Health Shots include the Gingy Health Tonic which features ginger, turmeric, apple, and black pepper; and Immune Boost which features apple, lemon, garlic, and oil of oregano. They're promoted as immune-boosting, "preventative healthcare", and food as medicine.
Buddha's Brew Kombucha comes in fourteen flavors, including botanical-forward flavors such as ginger, basil honey ginger, tangerine turmeric, and hibiscus rose. They also have a line of sparkling water dairy-free kefir. All of their products have focus on live probiotics.
Science-Backed + Healthy Halo
Consumers perceive certain ingredients to deliver particular health benefits. These ingredients may be science-backed, clinically tested, and/or supported by various claims or certifications. Other ingredients with a "healthy halo" often have a certain impression of health benefit due to long-held remedies (whether actual or not).
For example, according to Kerry's "Functional Forecasting", 77% of consumers perceive probiotics as supporting digestive/gut health, 67% perceive apple cider vinegar and green tea extract to support weight management, and 65% perceive ashwagandha to support cognitive/brain health.
Healthy halo ingredients, including many botanicals, aren't always clinically proven. Combining ingredients perceived to deliver a function along with science-backed ingredients can be a winning solution.
Formulating products with science-backed ingredients enables claims on the label and ensures the product delivers the promoted and desired health benefit, while including botanical ingredients holds value through positive associations and perceived benefits.