Posted by Starwest Botanicals on 26th Jul 2022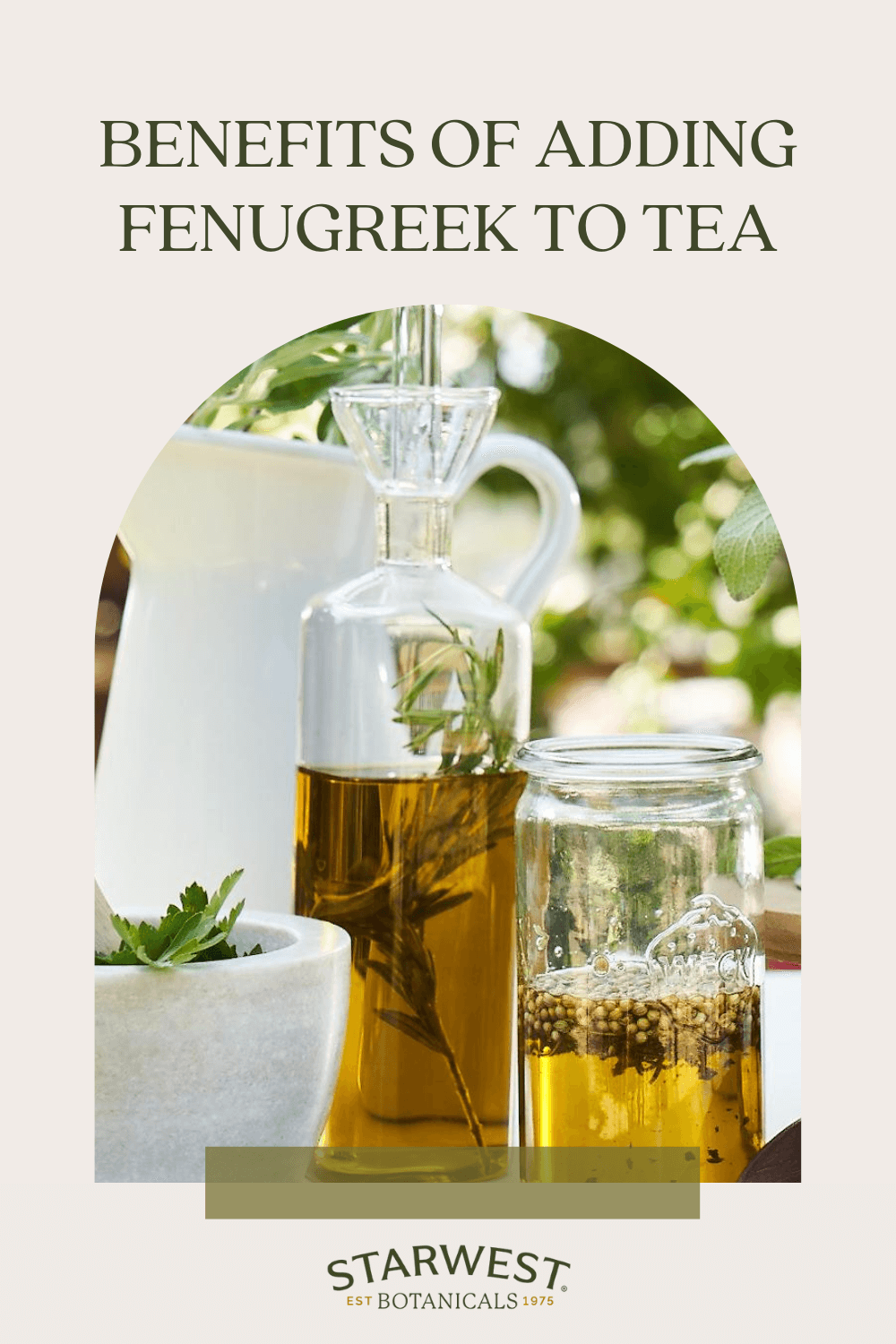 6 Surprising Benefits From Adding Fenugreek in Tea
Renowned for its sweet, maple syrup-like flavor, fenugreek plant, also known as Methi seeds or Greek Hay, is an herb indigenous to southeastern Europe and Western Asia. For centuries it's been a popular cooking spice in a variety of Indian dishes, from curries and sauces to beverages like tea.
But it isn't just fenugreek's syrupy flavor that makes it such an incredible addition to mealtime. Outside of the kitchen, fenugreek has a long history in traditional medicine as a natural remedy that supports overall wellness. And many people put fenugreek in tea with some honey, milk, fennel seeds, or lemon juice to reap its potential health benefits with every sip.
Curious about the potential benefits of fenugreek tea? Keep reading to learn more.
#1 May Help Lower Cholesterol
One of the biggest potential fenugreek seed tea benefits is what it may be able to do for your heart health—and thus the entirety of your body.
In trial testing, people with elevated lipid levels experienced a decrease in their symptoms after receiving a fenugreek supplement. According to the study, fenugreek can be beneficial in lowering:
Total cholesterol
Low-density cholesterol, commonly referred to as "bad" cholesterol
Additionally, those same patients exhibited a reduction in their triglyceride levels as well, suggesting a link between fenugreek tea and heart health.
#2 May Aid in Digestion
Tummy troubles got you down? One of the benefits of fenugreek seed is potentially helping soothe aching stomachs, aid digestion, and improve your overall stomach health.
How?
Fenugreek seeds are chock full of fiber and other antioxidants that are great for your gut. They may help remove toxins from your system, which can help clean your colon of cancer-causing toxins. What's more, fenugreek benefits may even include easing stomach discomfort, constipation, and indigestion, according to recent studies.
#3 May Help Fight Inflammation
Fenugreek seeds contain a special extract known as petroleum ether that has many purported health benefits. Principally, petroleum ether is a powerful antioxidant that may be a powerful force against inflammation and inflammatory conditions like joint pain.
While this is cause for optimism, it's important to note that testing that links fenugreek to anti-inflammatory potential has so far only been performed on rats.
#4 May Promote Weight Loss
If you're interested in a natural way to manage your weight, fenugreek in tea may offer the help you need. One study found that fenugreek may have played a role in decreasing the daily fat intake of people who consumed a small amount of fenugreek extract daily.
But what is the connection between fenugreek and your weight?
Further study is needed, but the prevailing thought is that ingredients in fenugreek, primarily the water-soluble fiber known as galactomannan, may act as a mild appetite suppressant, which may encourage healthier eating habits.
For example, in that same study, participants not only reduced their fat consumption, but they also reduced their caloric consumption by about 12% while taking fenugreek.
#5 May Help Lower Blood Sugar Levels
There's research that indicates that fenugreek may be beneficial in lowering your blood glucose levels, especially if you're someone who lives with unhealthy blood sugar levels.
A 2015 study found that fenugreek is a potentially effective antidiabetic. It's believed that fenugreek can help stabilize fasting glucose levels and help the human body manage glucose.
Additionally, that same study suggests that fenugreek, including fenugreek in tea, may be able to help those who are prediabetic balance their blood sugar levels by regulating insulin levels within the body.
More specifically, the study points to fenugreek as an insulin secretor and, thanks to special alkaloids and amino acids included in its composition, suggests that it may have strong insulinotropic properties—meaning it could help encourage insulin production and regulate insulin activity in the body.
#6 May Boost Brain Health
Rounding out this list of potential fenugreek tea benefits is fenugreek's neuroprotective properties, which may help support your brain health and reduce neurodegenerative diseases and other forms of cognitive conditions.
In clinical studies, extract from the fenugreek seed was linked to the suppression of a specific enzyme known as acetylcholinesterase that breaks down neurotransmitters.
Interestingly, this is the same enzyme that's targeted by prescription drugs that treat some neurodegenerative diseases by performing a similar function. That is, stalling the activity of acetylcholinesterase enzymes and making up for brain-boosting neurons that the enzyme has destroyed.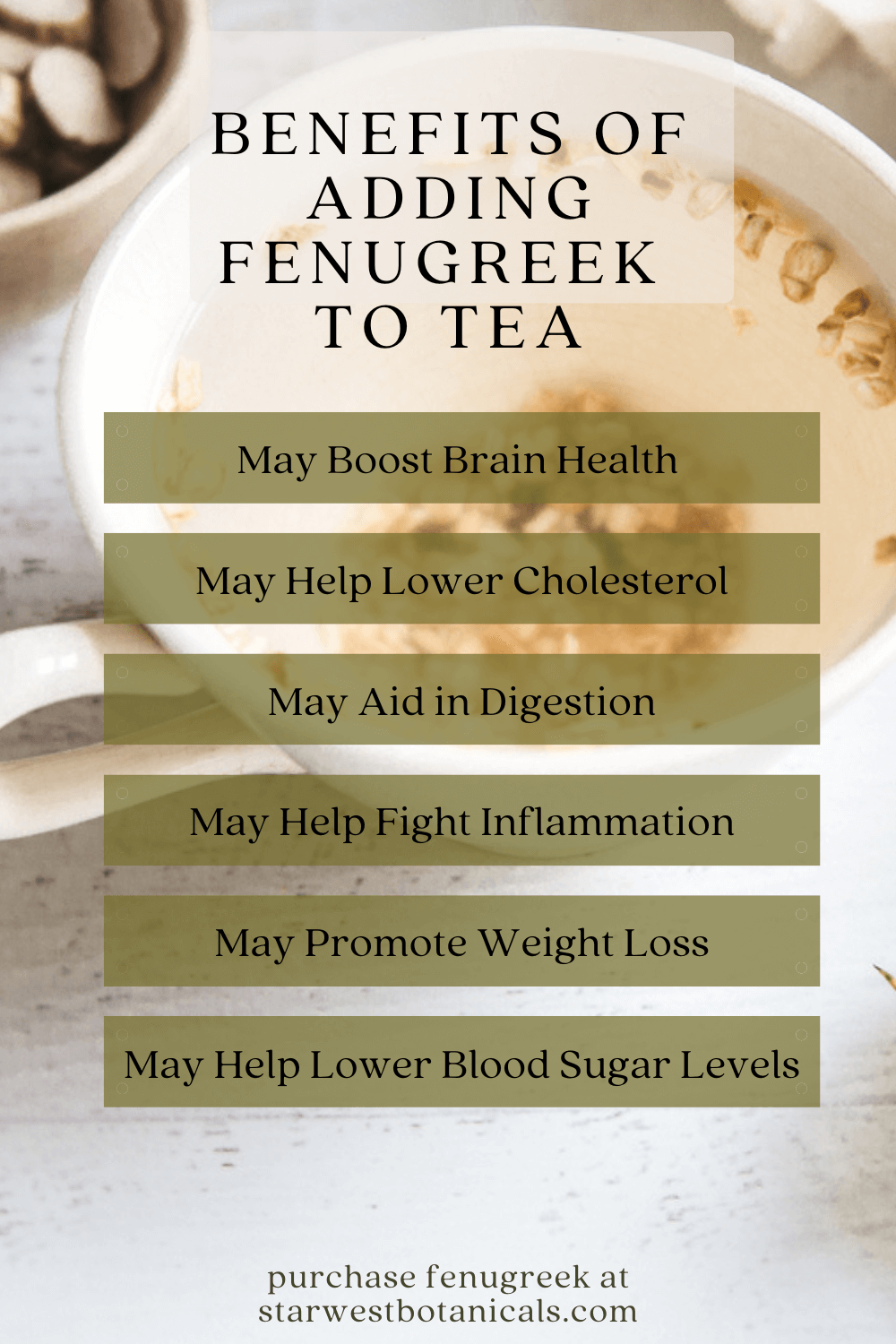 High-Quality Fenugreek at Starwest Botanicals
Adding high-quality fenugreek to your tea may promote full-body wellness by supporting immune, digestion, brain, and heart health.
For organic fenugreek seed powder that easily mixes into tea, look to Starwest Botanicals. Visit our blog post to learn how to use fenugreek powder for better health.
Since 1975 we've been connecting people like you with high-quality, organic herbs, spices, herbal tea, dietary supplements, and more, all with a 100% quality guarantee. From fenugreek tea to fenugreek powder, fenugreek seed extract, supplements, and more, Starwest Botanicals has what you need to feel your best.
Shop now and receive free shipping on orders of $75 or more.
Sources:
PubMed. Fenugreek Cultivation with Emphasis on Historical Aspects and its uses in Traditional Medicine and Modern Pharmaceutical Science.https://pubmed.ncbi.nlm.nih.gov/33245271/
PeaceHealth. Fenugreek. https://www.peacehealth.org/medical-topics/id/hn-2090006#
Times of India. This is What Happens When You Eat Fenugreek Daily. https://timesofindia.indiatimes.com/life-style/food-news/this-is-what-happens-when-you-eat-fenugreek-daily/photostory/79040787.cms?picid=79040800
National Library of Medicine. Anti-Inflammatory Activity of Fenugreek (Trigonella foenum-graecum Linn) seed petroleum ether extract. https://pubmed.ncbi.nlm.nih.gov/27756958/
National Library of Medicine. A Fenugreek Seed Extract Selectively Reduces Spontaneous Fat Consumption in Healthy Volunteers. https://pubmed.ncbi.nlm.nih.gov/19809809/
National Library of Medicine. Role of Fenugreek in the Prevention of Type 2 Diabetes. National Library of Medicine. A Fenugreek Seed Extract Selectively Reduces Spontaneous Fat Consumption in Healthy Volunteers. https://pubmed.ncbi.nlm.nih.gov/19809809/
National Library of Medicine. Fenugreek Seed Powder Nullified Aluminium Chloride Induced Memory Loss, Biochemical Changes, Aβ Burden and Apoptosis via Regulating Akt/GSK3β Signaling Pathway. https://www.ncbi.nlm.nih.gov/pmc/articles/PMC5125597/

National Library of Medicine. The role of acetylcholinesterase in the pathogenesis of Alzheimer's disease. https://pubmed.ncbi.nlm.nih.gov/12669110/