Posted by Starwest Botanicals Content Team | Medically Reviewed by Daniel Powers, MS on 07-26-2022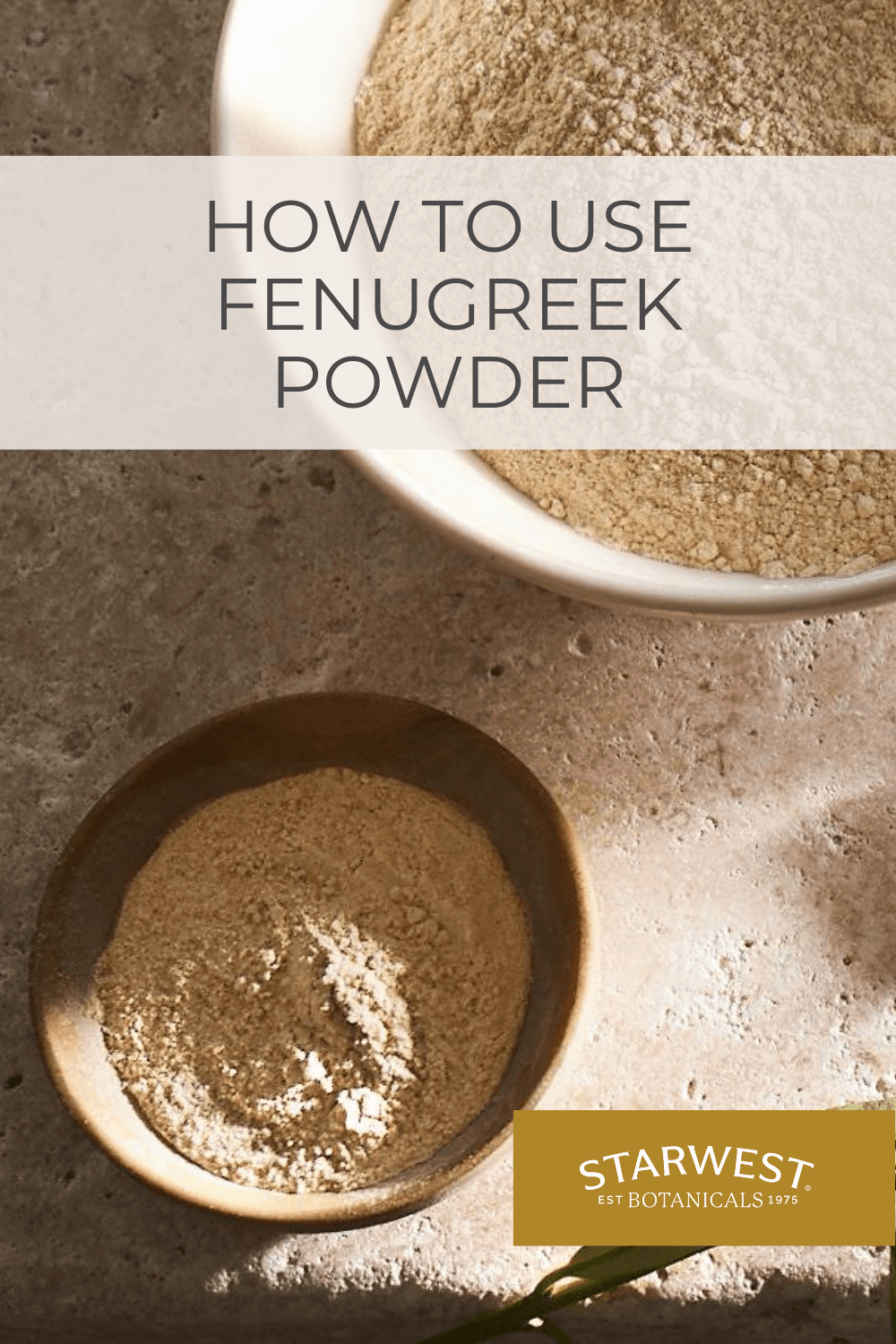 Fenugreek powder is made from the seeds of the fenugreek plant, a clover-like herb that grows in parts of Asia and the Mediterranean. Its scientific name is Trigonella foenum-graecum. Other names include Methi seeds and Greek Hay.
As a spice, fenugreek powder has a sweet, nutty flavor—think of the honeyed yet savory taste of maple syrup—that's made it a staple of cuisines from India to North Africa.
But as an herb with purported medicinal properties, many people believe that fenugreek comes with a range of potential health benefits, like preventing inflammation, and even potentially improving your hair health.
Wondering how to use fenugreek powder and reap all the possible benefits it has to offer? Keep reading for a few quick tips on making fenugreek a regular in your kitchen, bathroom, and more.
How to Use Fenugreek Seeds in Cooking
For centuries, the leaves and seeds of fenugreek have been an important addition to many Asian and Mediterranean meals. Although the leaves are a perfect garnish for many dishes, it's the seeds themselves that pack the biggest punch—and potentially pose the greatest health benefits.
Perhaps the best way to use fenugreek powder in cooking is as a spice. Because the taste of fenugreek can run bitter, it's usually best to mix it with a few other herbs and spices to achieve a well-balanced flavor. And when it comes to mixing spices, you can't go wrong with curry.
Because curry powder is already a blend of various spices, adding a fenugreek powder to the mix is an obvious choice. You can easily make your own curry powder with fenugreek from scratch. Simply add fenugreek powder to other curry-worthy spices you probably already have in your cabinet, like:
Coriander
Cumin
Ginger
Black pepper
Turmeric
Chili powder
Once you've made your curry powder, you can use it as a substitute powder in your favorite chili recipe.
How to Use Fenugreek Powder to Support Healthier Hair
You don't have to ingest fenugreek powder to enjoy some of its possible benefits. Fenugreek can potentially do wonders for your hair. The various botanical properties inherent to fenugreek powder may be effective in supporting a number of scalp and hair issues. The benefits of fenugreek may include:
Hair health – Fenugreek powder is full of nutrients that on their own are thought to promote healthier hair. For example, it's rich in iron and protein, which may help strengthen hair. And it's packed with a range of vitamins like A, K, and C, which may promote hair growth and reduce hair loss.
Have we piqued your interest? Good. Here's how to use fenugreek powder on your hair:
As a paste – One popular method for using fenugreek powder on your hair is to create a paste. Simply mix a bit of fenugreek powder with a small amount of warm water and stir until it obtains a paste-like consistency. Then, slather the paste onto your scalp and work it through your hair to the ends. You can leave it on for up to 15 minutes. Afterward, follow up with a shampoo and cleansing conditioner.
As a conditioning hair mask – If you want a hair treatment that can offer deep hydration, take your fenugreek paste a step further by adding coconut oil, honey, or yogurt to the mixture. Then, section your hair and work the solution into the roots. With your hair wrapped in a warm towel, leave the mask on for 10 to 15 minutes. After rinsing thoroughly, be sure to shampoo and condition.
You can also drink fenugreek tea.
How to Use Fenugreek Powder On Your Skin
Just as it can be applied directly to your hair, you can also use fenugreek powder directly on your skin. In fact, many experts believe that because of fenugreek's antioxidant properties, incorporating fenugreek powder into your skincare routine could potentially:
Improve blemishes
Reduce dark circles
Calm skin irritation and diminish redness
Repair skin damage
Fortunately, you can easily whip up a soothing fenugreek exfoliating scrub at home. Simply mix your fenugreek powder with a small amount of raw milk and water. For extra exfoliating, feel free to add a pinch of oats. Massage your skin gently, then rinse thoroughly before moisturizing.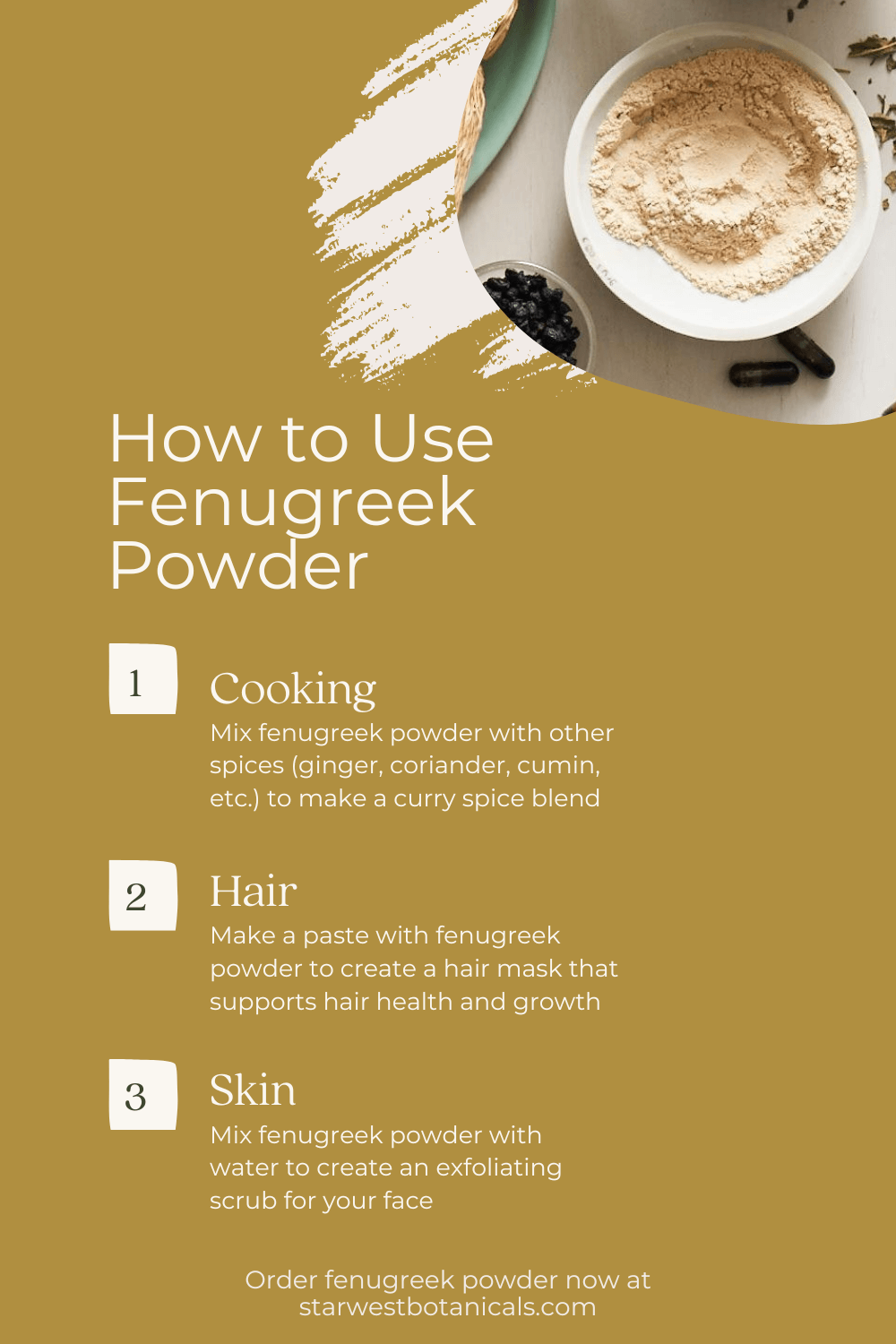 Starwest Botanicals: Top Quality Herbs, Fair Prices
Adding fenugreek powder to your daily routine can help elevate your meals and beauty routine. But for heightened results, look to high-quality fenugreek seed powder.
When it comes to all-organic herbs, spices, and dietary supplements, there's only one name to remember: Starwest Botanicals. In addition to herbal extracts, essential oils, natural body care, and fenugreek in tea, we offer fenugreek powder, fenugreek seed capsules, and fenugreek tea to provide you with beneficial botanicals you can trust.
Shop quality with the Starwest family.