Posted by Starwest Botanicals Content Team | Medically Reviewed by Daniel Powers, MS on 07-22-2022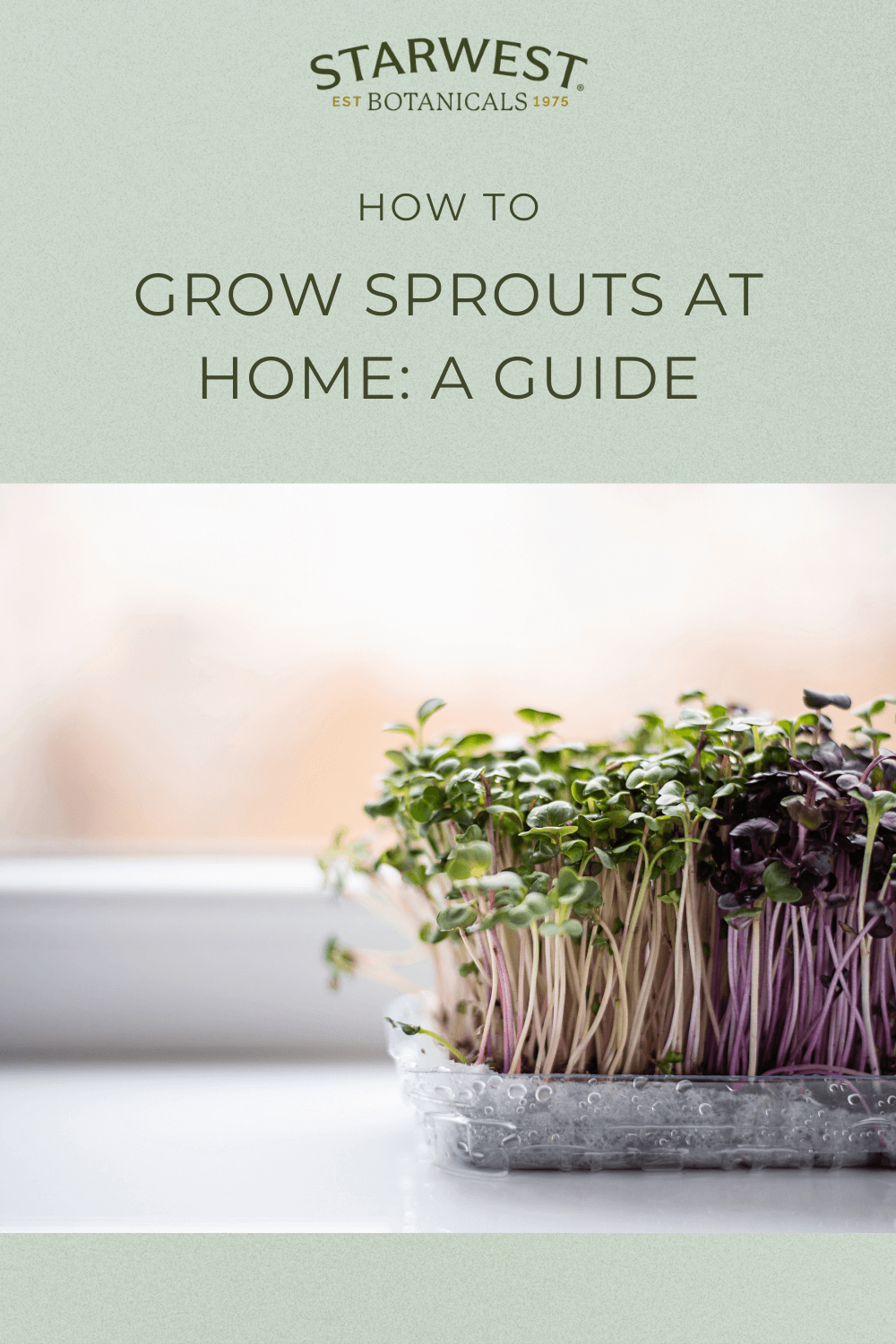 How to Grow Sprouts at Home: A Guide
We're calling all herb and veggie lovers, meat-eaters, and pescatarians. Did you know there's a type of fresh produce that can be grown year-round without any prior gardening knowledge? One that's low-maintenance and harvestable in less than a week? That's right, we're talking about seeds for sprouting.
Fresh sprouts carry essential vitamins, minerals, fiber and are an excellent source of antioxidants.1 They're immune boosters with high bioavailability, which means the body can quickly and efficiently break down and absorb all of its rich nutrients. Plus, growing sprouts is as easy as pouring a glass of wine. Well, maybe not that easy. But they're low-maintenance, inexpensive, and take up less real estate on the countertop than a coffee pot or loaf of bread.
Whether you've got a green thumb or are a gardening newbie, follow along as we teach you how to grow sprouts and the benefits you can enjoy by sprouting your own.
The Benefits Of Growing Your Own Sprouts
When you decide to grow your own seeds at home, you'll want to determine whether you prefer microgreens vs sprouts. While they are similar, there are differences to consider.
The good news is that with either seed, you'll have much more to look forward to than a simple, tasty addition to salads and avocado toast. There are also many health benefits of sprouts. You might find your homegrown sprouts to be far fresher, safer, and more affordable than anything you'll find at the supermarket.
1. Freshness
Growing sprouts at home is one of the best ways to ensure you're getting the most nutritional value out of your sprouts. That's because it's best to eat them a few days after harvest to maximize nutrient consumption. The odds are that the peak eating period of fresh sprouts has already passed by the time commercially grown sprouts are packaged, shipped, and shelved at the supermarket.
2. Safety
Homegrown sprouts allow you to control the environment in which they're grown too. Increased control might mean that you're able to sidestep some of the possible food-borne illnesses and contaminants that commercially grown sprouted seeds might encounter before arriving at your local supermarket.
The only way to ensure your seeds are safe and free from herbicides and pesticides is to sprout them in your home.
3. Affordability
If you're not convinced yet, maybe a few extra bucks in your pocket will do the trick. It's no surprise that sprouting at home is typically cheaper than buying store sprouts. Instead of wracking up a sizable grocery bill week after week on supermarket sprouts, you can buy sprouting seeds in bulk and grow them yourself.
In turn, you could reduce your weekly spending and find an eco-conscious way around the plastic packaging that tends to wreak havoc in many supermarket produce sections.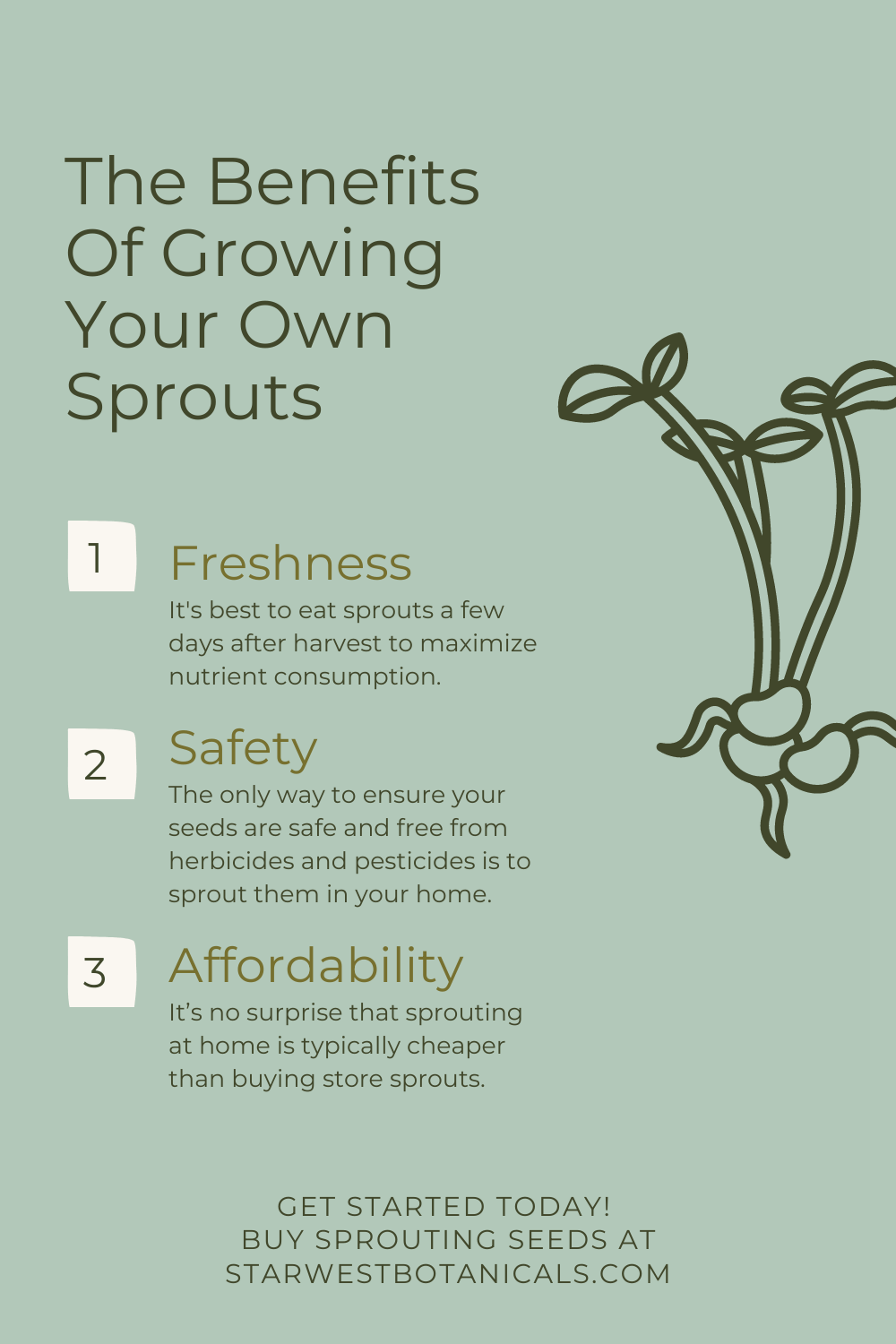 Sprout Growing Equipment
Once you're ready to grow sprouted seeds, check to see if you've got the equipment you need in your kitchen pantry. But if not, no sweat—you can usually find the following items easily online or at a store nearby:
If you can collect these items, then you're ready to sprout!
How to Sprout Seeds at Home: A Step-by-Step Guide
Instructions for individual seeds may vary, but the following timeline will provide a basic understanding of how to sprout seeds.
Day 1
Start by finding a reliable location in your home to grow sprouts indoors. Ideally, you'll want to find a place in your house with good airflow and away from direct sunlight. Once you've found prime real estate for your soon-to-be sprouting seed, take the following steps:
Sanitize – Before you begin, it's good to wash your hands and clean all your equipment with hot soapy water to avoid contamination. Don't forget to dry it thoroughly as well. Now, it's time to give the seeds a good rinse.
Soak overnight – Depending on the size of the jar (either a pint or quart) sprinkle between two teaspoons and a hefty tablespoon of your seeds of choice into the jar. Let them soak for up to 12 hours (depending on the seed type), and be sure to cover them with about two inches of cool, filtered or fresh water.
Day 2
The next day, drain the water from the seeds and rinse them well. Put the sprouting screen (or cheesecloth) securely over the jar if you haven't already done so. Rinse and drain each twice a day, and place the jar in a well-ventilated place, away from heat and direct sunlight.
It's essential to make sure your sprouting jar drains well, preferably situated on a rack or in a bowl at a 45-degree angle.
Days 3-5
Continue rinsing the seeds and draining them twice daily.
Be sure to tap and shake your container as necessary to allow any excess moisture to drain. The seeds will begin to sprout tails during this time, bringing sudden awe and pleasure to your sprouting experience.
Day 6
Give each sprout seed one final rinse and allow them to drain thoroughly. Then, take care to store soggy sprouts. Lay them out in indirect sunlight on a tray covered with a paper towel, or use a salad spinner to remove excess moisture and water.
Once dry, place the dried sprouts into an airtight container and store them in the refrigerator. If stored properly, they should last up to five days.
Conclusion: Seize The Day And Start Sprouting
Since 1975, when Starwest Botanicals started as a small retail herb shop in northern California, we've dedicated ourselves to trust, transparency, and a commitment to excellence. When you shop with us, you can rest easy knowing each organic seed and product of ours is Certified Organic by Quality Assurance International.
By now, we hope you're as excited as we once were to begin growing food in your kitchen. Whether you eat sprouts raw or sprinkle them into a flavorful stir fry or soup, they're the perfect supplement to just about any diet.
Starwest's collection of Certified Organic Sprouting Seeds consists of alfalfa sprouts, broccoli sprouts, radish sprouts and more. Once you choose from the variety you can begin to find what flavors complement your favorite dishes.
What are you waiting for? Seize the day and start sprouting.
---
Sources:
1Cleveland Clinic. What Are the Health Benefits (and Risks) of Eating Raw Sprouts? https://health.clevelandclinic.org/what-are-the-health-benefits-and-risks-of-eating-sprouts/