Posted by Starwest Botanicals Content Team | Medically Reviewed by Daniel Powers, MS on 07-19-2022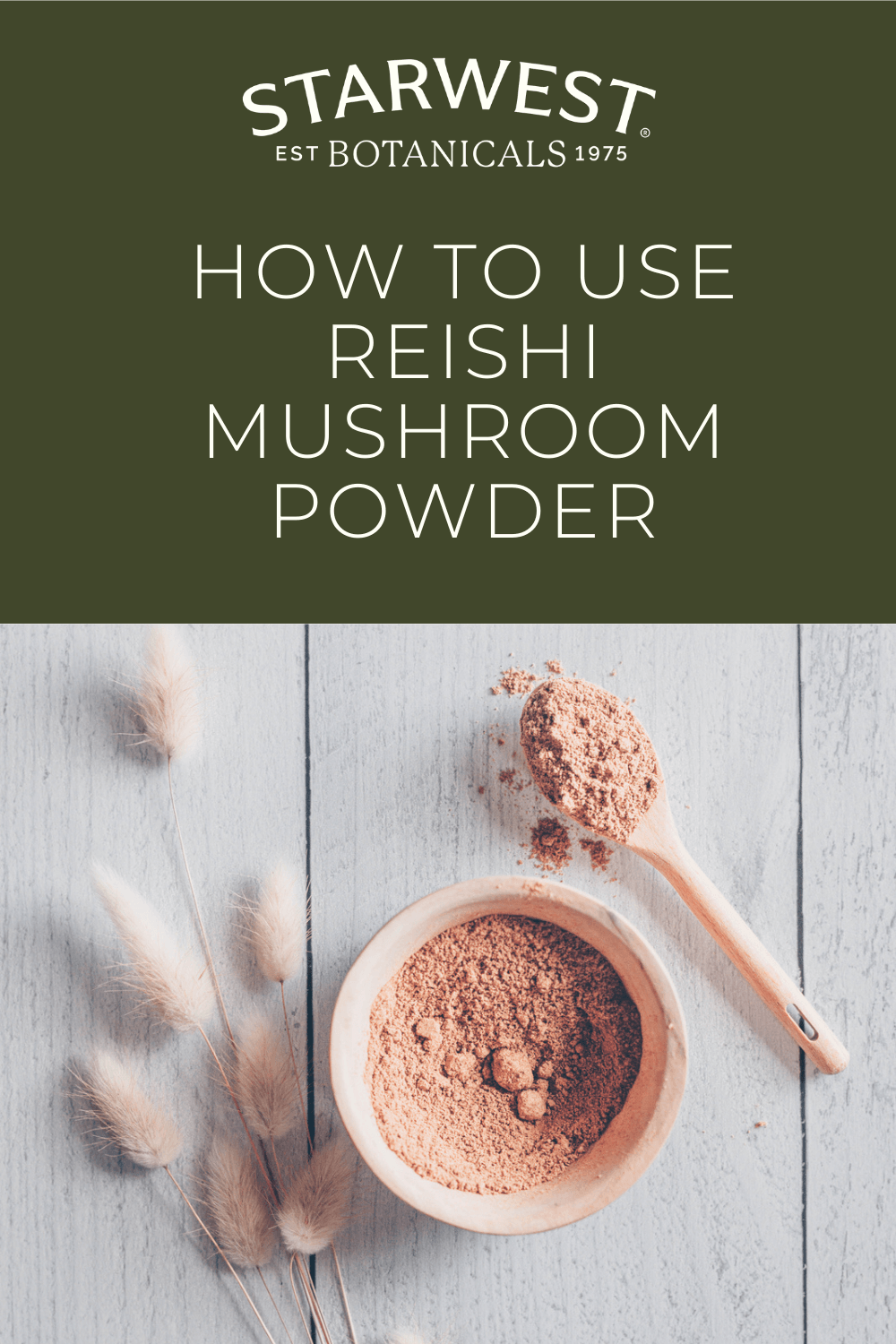 Best Way to Consume Reishi Mushroom Powder: A Guide
Among a long list of adaptogens and benefits you will find reishi mushrooms. Reishi mushrooms have a long history (and future) in health and wellness. In fact, reishi mushrooms were prized by wealthy nobles in East Asia at the beginning of the common era for their purported energy-enhancing, qi-balancing qualities. Today, modern studies have found many reishi mushroom benefits, from improving energy levels to supporting a healthy immune system.
Modern cultivation has made reishi available to the masses. You may be interested in supplementing your healthy lifestyle with these sought-after shrooms, but you may have questions about the best way to do it.
What's the best way to consume reishi mushroom powder? The answer is simple— whichever way suits your lifestyle.
As a Capsule
For a quick and easy supplement boost, you may enjoy the simplicity of a dissolvable capsule. Capsules are pill-shaped casings that hold the active ingredients of a supplement. The casing is broken down in the stomach, allowing for the active ingredient to be absorbed into the bloodstream.
Capsules can allow for faster absorption of reishi powder. Consuming reishi powder as a capsule can also lead to improved bioavailability, or a higher rate of ingredient absorption so that the body can put more of this beneficial substance to use.
Whether you're taking advantage of the benefits of reishi mushrooms alone or concocting the perfect blend of herbal wellness warriors, creating homemade supplement capsules is easier than ever.
Have your reishi powder handy as you follow these steps:
Set up the base and stand of your capsule machine in a large bowl. This will catch any extra supplement powder to reuse later.
Slot the capsule pieces into the base and lid of the machine. The larger part of each capsule goes into the base, and the smaller part goes into the lid.
Pour your reishi mushroom powder on top of the machine base, and use the included spreader card to pack it into the capsule bottoms. The excess powder can be pushed into the bowl through the open corner of the base.
Use the tamper to compress the powder and add more, if you'd like. Then set the top of the filler machine on the base.
Grip the two pieces together firmly and remove them from the stand. Press on the spring platform on the underside of the base to seal the capsules together. When you remove the top, your capsules will be set inside, sealed and ready to consume and store.
In a Cup of Tea
If you enjoy savoring a soothing cup of tea during your day, reishi mushroom tea may fit perfectly within your routine. Drinking reishi mushroom tea may also bring additional reishi mushroom benefits. Some studies have linked tea drinking to these health benefits:
More balanced, upbeat moods
and better overall health and wellbeing
How To Make Reishi Mushroom Tea
Making reishi tea at home is simpler than you might imagine. All you need is reishi powder, tea bags, kitchen twine, a pot of water, and a stove. You can also utilize other tea accessories, such as a tea infuser.
First, set eight cups of water on the stove to boil.
Wrap a quarter pound of reishi powder into a length of muslin, and secure the bundle with your kitchen twine.
Once the water is boiling, drop in your homemade tea bag and reduce heat to a simmer.
Reduce the liquid in the pot by half (this usually takes about an hour).
Remove the finished tea from the heat and allow it to cool—it can be stored in the fridge for up to a week.
Mixed Into a Smoothie
Is there anything better than a fortifying, delicious smoothie? Eaten as a snack or a meal replacement, a smoothie is the perfect carrier for this medicinal mushroom supplement.
What goes into the smoothie (or smoothie bowl) is entirely up to you. Here are a few suggestions to get the inspiration flowing:
Make it green – Accentuate the natural reishi mushroom supplement with a green smoothie— kale, citrus juice, banana, spinach, avocado, and protein powder are all delicious and healthy additions.
Choose powerful flavors – If mushroom isn't your preferred flavor profile, hide the reishi with strong flavors like berries, chocolate, and peanut butter.
Try a bowl – Create a reishi smoothie bowl with acai, almond milk, protein powder, and frozen berries. Top it with your favorite granola, cacao nibs, and a drizzle of maple syrup. This is a delicious and nutritious way to receive the health benefits of reishi mushrooms by adding it into your meals.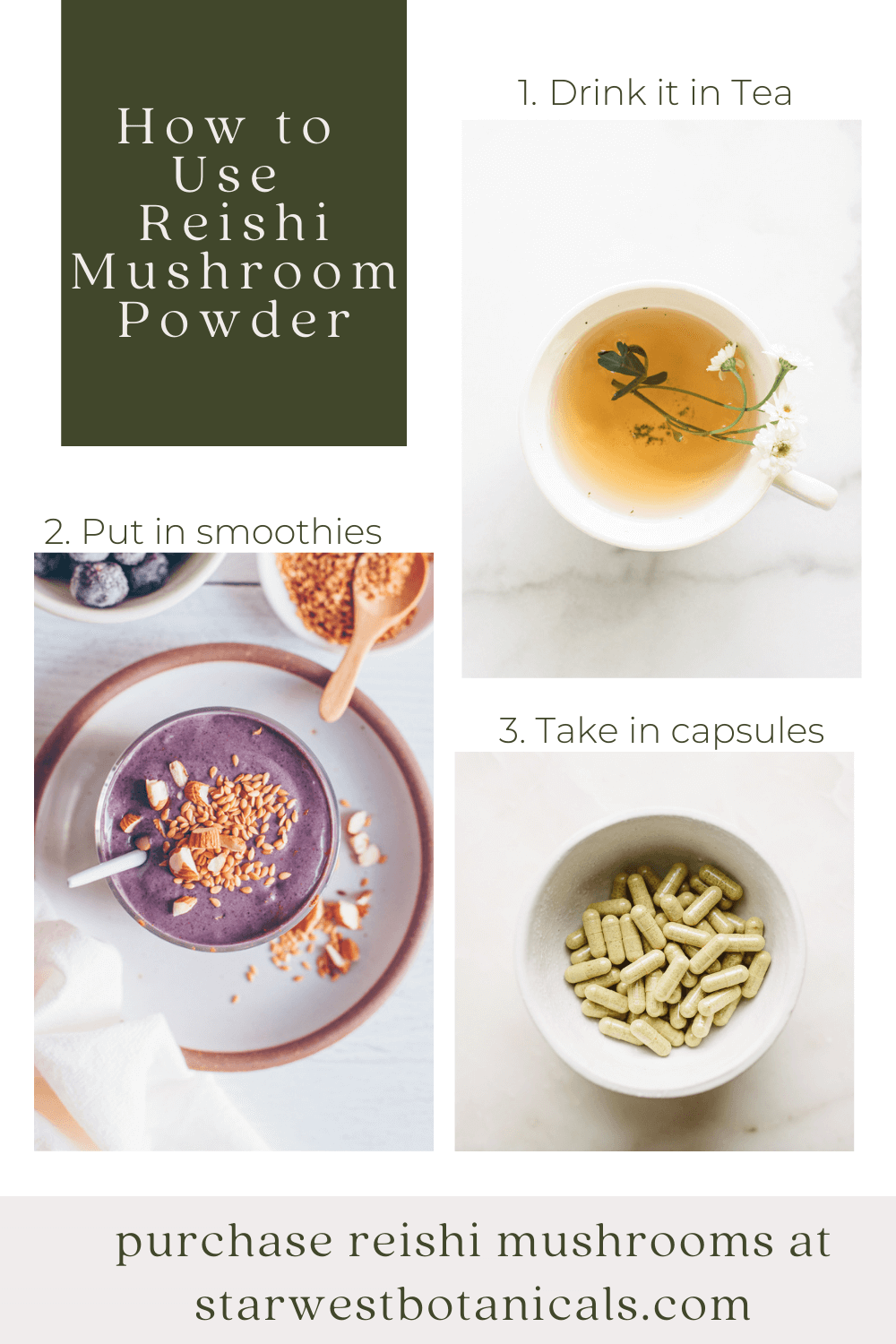 Is Reishi Powder Right for You?
Now that we've covered how to use reishi mushroom powder, let's hit on a few frequently asked questions:
Can you take reishi every day? The proper dosage of these medicinal mushrooms varies and can change depending upon the manufacturer of your powder. Always consult the label. Know that reishi isn't typically used as a daily supplement over extended periods of time.
Is reishi powder safe to use? For most people, reishi is totally safe to consume. However, it can pose health risks to certain individuals. For example, people who are pregnant or nursing shouldn't take reishi. Consult with your physician before embarking on any new supplement routine.
Source Your Supplements From Starwest Botanicals
From reishi powder to chili pepper, Starwest Botanicals carries all the herbal products you need.
Whether you're an individual looking to make some healthy changes in your life, or a business sourcing quality herbs and spices, we're here to make your life a little easier. With almost forty years in the industry, our longstanding supplier relations and traceable, ethical business practices are tried-and-true.
Give reishi mushroom powder a try (in tea, in a smoothie, or as a capsule) risk-free. Starwest's high-quality products are sure to suit your needs—100% satisfaction guaranteed.
---
Sources:
National Library of Medicine. Herbal Medicine: Biomolecular and Clinical Aspects, 2nd Edition. https://www.ncbi.nlm.nih.gov/books/NBK92757/#ch9_sec2
National Library of Health. Cellular and molecular mechanisms of immuno-modulation by Ganoderma lucidum. https://pubmed.ncbi.nlm.nih.gov/16230843/
National Library of Medicine. Infusing pleasure: Mood effects of the consumption of a single cup of tea.https://pubmed.ncbi.nlm.nih.gov/27059832/
National Library of Medicine. A systematic review and meta-analysis.https://pubmed.ncbi.nlm.nih.gov/32507441/
National Library of Health. Frequency of a diagnosis of glaucoma in individuals who consume coffee, tea and/or soft drinks. https://pubmed.ncbi.nlm.nih.gov/29242183/
National Library of Health. Tea consumption and risk of type 2 diabetes: a dose-response meta-analysis of cohort studies. https://pubmed.ncbi.nlm.nih.gov/24331002/

National Library of Health. Tea consumption and risk of cardiovascular outcomes and total mortality: a systematic review and meta-analysis of prospective observational studies. https://pubmed.ncbi.nlm.nih.gov/25354990/