Posted by Starwest Botanicals on 08-09-2023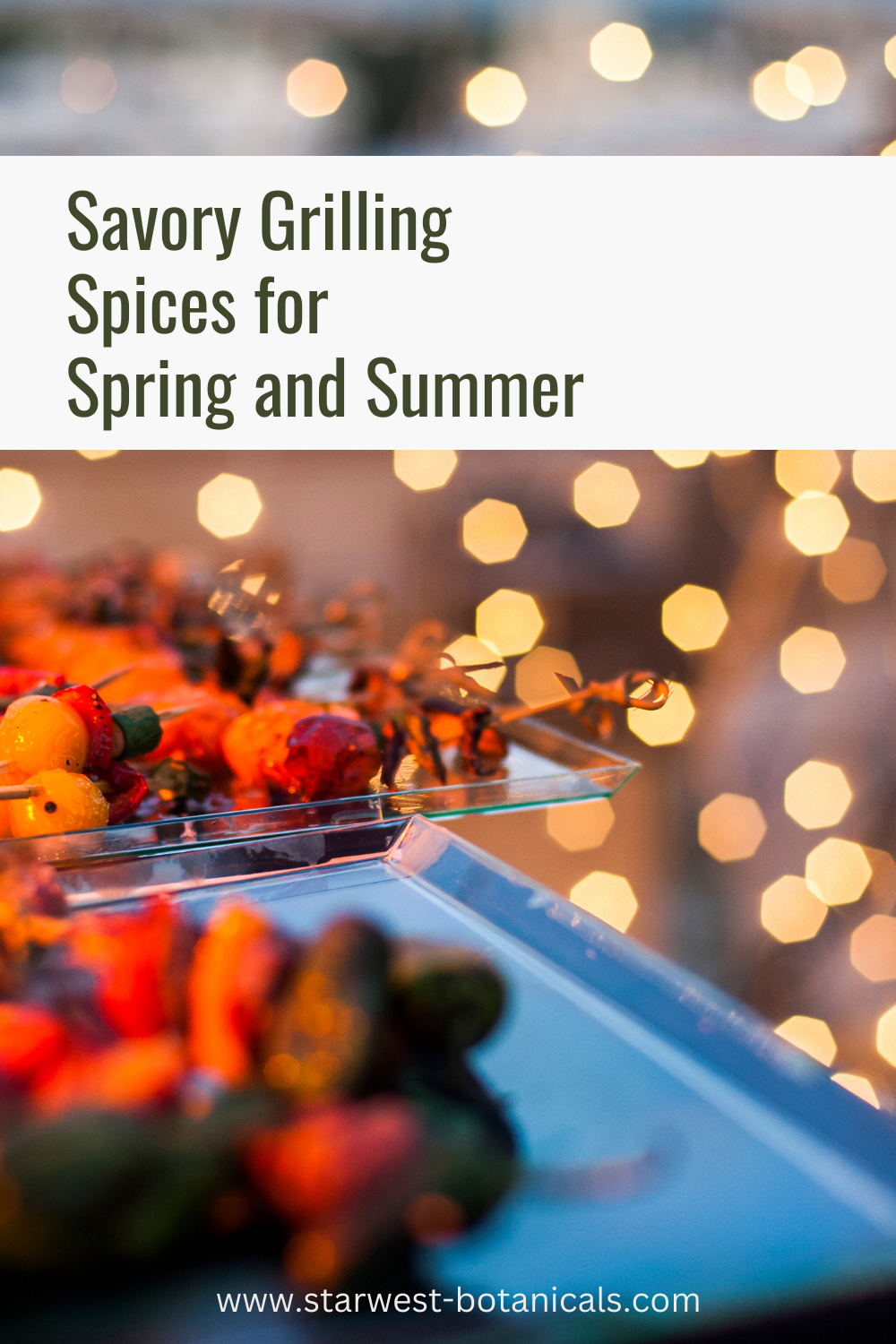 Exploration and Adventure Through Spices
According to Perfumer & Flavorist, consumer hunger for exciting flavors will continue, "as 47% of consumers expect to continue buying interesting new offerings following the pandemic." Bold and hot flavors such as chipotle, black pepper, and chile verde are trending. People are looking to travel through their taste buds. Za'atar blends, sumac, turmeric, and other global flavors such as paprika, harissa, and yuzu kosho are popular choices.
Sweet/spicy and sour/spicy combinations are also becoming more prevalent. These include hot honey, habanero mango, and mango and tamarind, which all provide complex sensory experiences. The combination
of fruit and spice is becoming more familiar, with the popular chili-lime spice mix Tajin leading the way. According to a recent report from Mintel, 45% of U.S. fruit users say they would like to see more seasoned fruit for grilling.
Interested in trying grilled fruit with a touch of sumac this season? We've found a delicious recipe for you. Try this sumac spice-dusted stone fruit and halloumi cheese salad. Pass it on to your customers or development teams as well!
Recipe
INGREDIENTS:
8 cups of stone fruit (nectarines, white peaches, yellow peaches, apricots and cherries) cut into chunks of different sizes. • 2 cups loosely packed watercress, large stems removed or substitute arugula
1 block of halloumi cheese (about 8 oz), sliced into large planks for grilling
2 tbsp toasted pine nuts
coarse sea salt
fresh cracked black pepper
extra-virgin olive oil
balsamic vinegar
1 pinch of sumac
DIRECTIONS:
1. Place prepared fruit in a mixing bowl and chill until cheese is ready.
2. Brush halloumi cheese with olive oil and season with cracked black pepper. Grill until lines appear on the cheese (or pan fry). Let the cheese come back to room temperature and dice in bite size pieces.
3. Add the cheese to the mixing bowl with the fruit. Add the watercress or arugula. Add 3 tablespoons of olive oil to the bowl. Season with cracked black pepper. Right before you're ready to serve, toss the salad to incorporate everything (you can keep in the fridge un-tossed until ready).
4. Place in a serving bowl and finish with a few dashes of the aged balsamic vinegar—add as much or as little to this depending on the sweetness or tartness of the fruit.
5. Garnish with the toasted pine nuts, sumac, and coarse sea salt to taste.
Recipe source: https://thechalkboardmag.com/sumac-stone-fruit-sa...
Spotlight on Sumac
Sumac is a spice that comes from dried and ground berries from the Rhus Coriaria shrub. This wild plant is found in the Mediterranean in Italy, Turkey, and Iran.
Across the Mediterranean and Middle East it's common for people to keep sumac in shakers on their tables to season their favorite foods in much the same way that salt and pepper shakers are used in the West.
Flavorful
Sumac's red or burgundy color can be de ceiving since this spice isn't actually spicy at all. Sumac has a lemon-like flavor with sour, tangy, bright, earthy, and fruity notes. This ver satile spice has many cooking applications. It's used worldwide to compliment the flavors of everything from hearty grilled meats to fresh vegetables and even delicate desserts.
It tastes great as a spice rub for lamb, fish, and chicken and can be sprinkled on hummus, roasted vegetables, eggs, salads, and soups to add both a zesty flavor and vibrant color.
More than just a flavor enhancer, sumac has a myriad of uses including as a color enhancer and for its health boosting properties.
Functional
Sumac has been shown to have both medicinal and nutritional benefits. Sumac berries are packed with vitamin C and antioxidants and have a long history as an herbal remedy. It's been studied for its use as an antibacterial, antioxidant, colorant, and food supplement.
Its antibacterial, anti fungal and antioxidant properties even make sumac an efficient food preservative and natural, harmless food additive. Sumac contains anthocyanins, tannins, flavonoids, and other antioxidant compounds that have anti-inflammatory effects. Anthocyanins have been used to treat a variety of health conditions, including high blood pressure, colds, and viruses. In a 2014 study, sumac was found to be effective in treating patients with type 2 diabetes, helping to lower blood sugar levels.
We have another healthful recipe for you and your customers to try. This grilled lettuce and sumac summer vegetables recipe pairs sumac's health benefits with an assortment of nutrient-packed vegetables—and it's perfect for grilling season!
Recipe
INGREDIENTS:
1 romaine lettuce heart
1 large tomato
1 handful garlic flower stems
2 zucchinis
1 bunch large, fresh scallions or young green onions • ½ cup olive oil
1 cup garlic yogurt (see recipe)
2 tbsp ground sumac
salt, to taste
DIRECTIONS:
1. Remove any wilted leaves from the lettuce and make a cross incision at the bottom. Tear the heart into four pieces, using your fingers; this avoids leaves becoming loose during grilling. 2. Cut the tomato and zucchinis into thick slices.
3. Remove tough edges from garlic flower stems. Remove green stems from shallots, then cut the large bulbs in two. 4. Lightly oil vegetables and grill on high heat, beginning with zucchinis and shallots which require about 3 minutes on either side. Grill the garlic flower stems, followed by the lettuce quarters. 5. Place on a large platter and garnish with olive oil, a little garlic yogurt, and sumac. Salt and serve accompanied by the remaining garlic yogurt.
Recipe source: https://spicetrekkers.com/recipes/grilled-lettuce...
Our Top 3 Favorite Grilling Spices
Other than sumac, our top three favorite spices for grilling this season include turmeric, paprika, and our Moroccan Tandoori Seasoning spice blend. Flavorful and functional, these spices add a pop of color on any dish, but are especially suited for grilled vegetables and meats.
Turmeric
Turmeric is a perennial flowering plant in the ginger family native to India and South east Asia. The rhizomes, or underground stem, yield this traditional Indian spice when boiled, dried, or ground. You may recall turmeric from our feature on botanical adaptogens in Volume 1 of our newsletter.
Turmeric has been used to flavor food for centuries and is known historically for its anti-inflammatory and immune-supportingbenefits, particularly from the compound it contains called curcumin.
Turmeric has a slightly bitter, warm taste. Add root pieces to soups or grate and use in egg dishes or marinades. Sprinkle turmeric powder onto vegetables and meats before grilling, or incorporate it into sauces and marinades.
Paprika
Paprika is a spice made from dried and ground red peppers that have a mild spice. The variety of peppers descended from North America in Central Mexico, but paprika was introduced to the rest of the world in the 16th century when the peppers were brought to Spain. Paprika as we know it was first used in Hungarian cuisine in the early 1800s. Hungary is a major source of commonly used paprika today.
Just one teaspoon of paprika provides 21% of the daily value of vitamin A.
Paprika can be sprinkled on raw vegetables or cold dishes as a garnish, but the flavor is brought out more effectively by heating it in oil. This mild spice brings a hint of sweetness to grilled and other dishes.
Moroccan Tandoori Seasoning Our Moroccan Tandoori Seasoning is an Indian seasoning with a twist! It's infused with the spiciness of cumin, coriander, garlic, and black pepper. The blend also features fenugreek, cinnamon, ginger, cardamom, cloves, and nutmeg.
This spicy-sweet blend gives a bold flavor perfect for grilling. It can also be a great companion to soups, casseroles, sauces, marinades, lentils, vegetable bakes, and delicate egg dishes.