Posted by Starwest Botanicals on 10-28-2022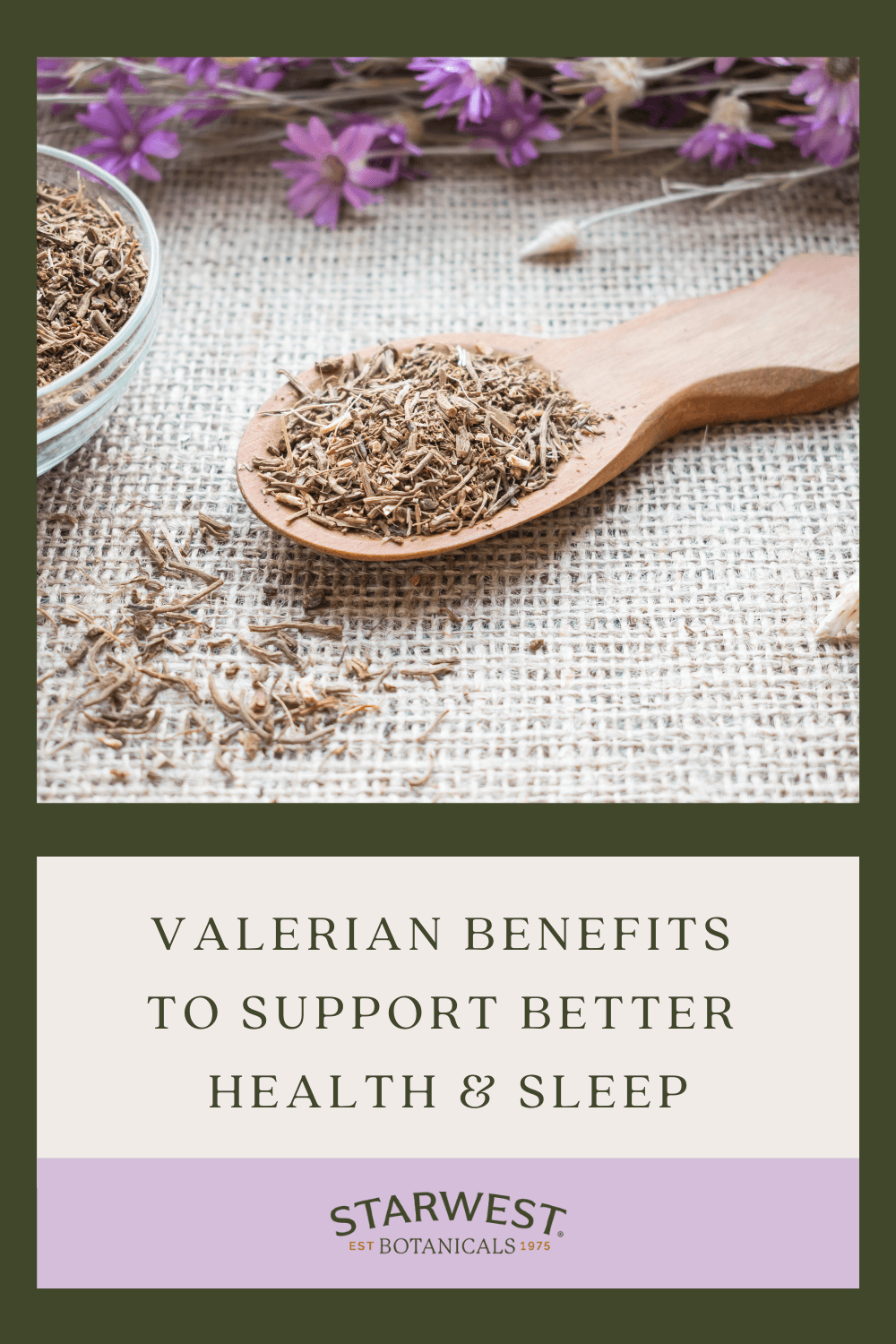 Valerian Benefits for Better Health & Sleep
If you're one of the 70 million Americans who report struggling with chronic insomnia, you're probably familiar with many of the go-to recommendations—sleeping pills, caffeine reduction, a consistent bedtime, etc.
A growing number of people are turning to a natural option with roots that reach back to ancient Greece: valerian root.
Understanding the potential valerian benefits for better sleep quality, as well as other areas of health, can help you decide if you're interested in incorporating valerian root into your own health routine.
What is Valerian Root?
Valerian is a tall, flowering grassland plant native to parts of Europe and Asia. Historically, the valerian plant has been used to treat insomnia, anxiety, stress, and to help relax the mind and body, as well as to provide relief for ailments like stomach cramps and migraines.*
Today, this herb can take the form of capsules, tablets, tea blends, root powder, and liquid extracts used to create a pure valerian tea. Whether you prefer herbal teas for sleep, capsules, or even a few drops under your tongue, make sure to follow the preparation and amount recommendations included on the packaging. For example, an herbal tea blend will typically prove much less potent than a capsule, or a pure valerian tea.
While science is only beginning to properly study the benefits (and limitations) of valerian root, the available research on valerian health benefits appears promising.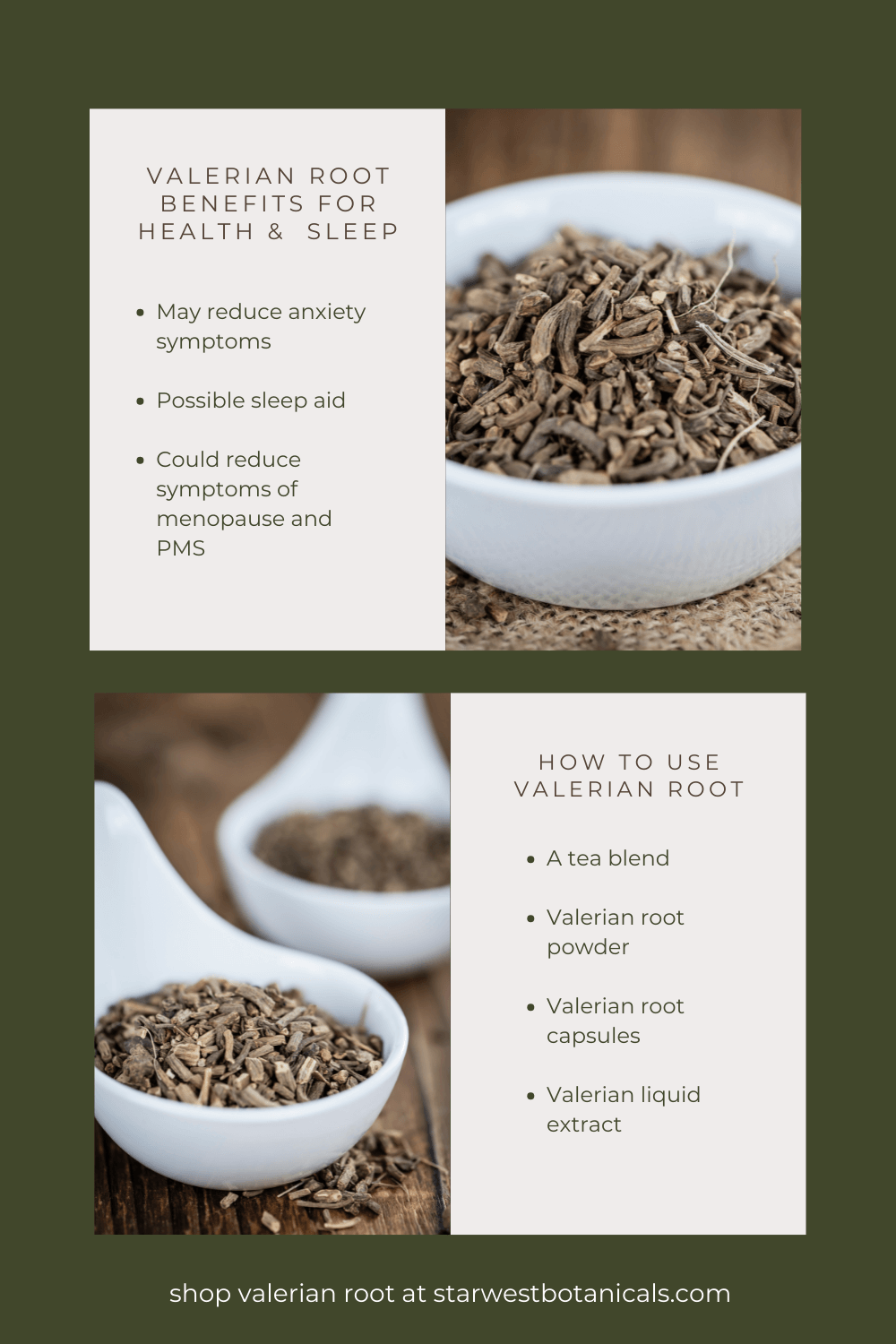 Potential Benefits of Valerian Root
While there are various types of herbs for sleep, people prefer valerian root for a variety of reasons. However, whenever you're considering adding a supplement like valerian root to your routine, it's best to reach out to your doctor to confirm that taking valerian root won't interact poorly with any sleep medicine or other medications you're taking.
That said, if valerian root is right for you, you may stand to benefit from the following effects:
Calming Effects for Sleep
Further study is needed before any definitive claims can be made, but current research seems to support the historic practice of using valerian root to help people calm down and relax, either to help with sleep quality or to help them cope with the symptoms of stress.,,
Our current available research suggests the following benefits of valerian root for sleep:
Could help reduce anxiety – Taking valerian root can increase the amount of gamma-aminobutyric acid (also known as GABA) in your brain. GABA can help limit nervous system activity. Research suggests that if you have higher levels of GABA in your brain, it may help you fall asleep faster.,
Possible sleep aid – Studies suggest consuming valerian root could help lessen sleep disturbances.* Aside from helping you find restful sleep more quickly, a higher-quality sleep could help you feel more rested when you wake.
PMS and Hot Flash Management
Some promising early research also suggests that valerian root has properties that could help manage some of the discomfort caused by menopause and premenstrual syndrome (also known as PMS).,
Studies suggest potential benefits in the following health areas:
Hot flashes – One study suggested that consuming valerian root could help calm the frequency and severity of hot flashes in menopausal patients. Existing hormonal therapies aimed at treating hot flashes can pose undesirable risks for anyone who's at risk of developing blood clots, breast cancer, heart disease, or strokes. While further clinical research is required, an alternative option that makes hot flashes more comfortable without involving hormone therapy could eventually prove impactful for many patients.
Physical symptoms of PMS – One study suggested that using valerian root could help address some physical symptoms of PMS, including cramping, back pain, and headaches.
Mental symptoms of PMS – One study indicated using valerian root could help lessen some of the mental symptoms of PMS, such as mood swings and anxiety.
If you're considering using a valerian root supplement to help with PMS or hot flashes, a doctor can help you determine if it's best to start with a more diluted form like an organic herbal tea blend, or a more concentrated, precise form like a valerian extract.
How to Use Valerian Root
Fortunately, there are many different options for those interested in the benefits of valerian root. If you're looking for a way to incorporate a valerian root supplement into your bedtime routine, consider trying:
A tea blend – A functional tea blend can combine soothing valerian with other calming ingredients like chamomile to help you relax before bed. Regardless of your preference for loose leaf tea vs tea bags, it's a simple, easy way to begin incorporating valerian root into your pre-bedtime routine, especially if you've never tried valerian root before.
Valerian root powder– If you want a higher concentration of valerian root in your bedtime tea, try making tea from valerian root powder. Make sure to follow the dose instructions on the packaging, and confirm with your doctor that valerian root won't affect any other health conditions or medications you're taking.
Valerian root capsule – For an easy-to-use, concentrated dose of valerian root, you can also try taking a valerian capsule before bedtime. This option may be ideal for those who don't prefer tea (or who already have a favorite tea in their bedtime routine).
Valerian liquid extract – If you prefer a different type of beverage for your evening routine, try adding a few drops of valerian root extract. The concentration of valerian liquid extract can vary from brand to brand, so always follow the dosage instructions on the packaging.
From tea blends to liquid extracts, the many different forms of valerian root could help you find a blissful night's sleep—in whatever form you prefer.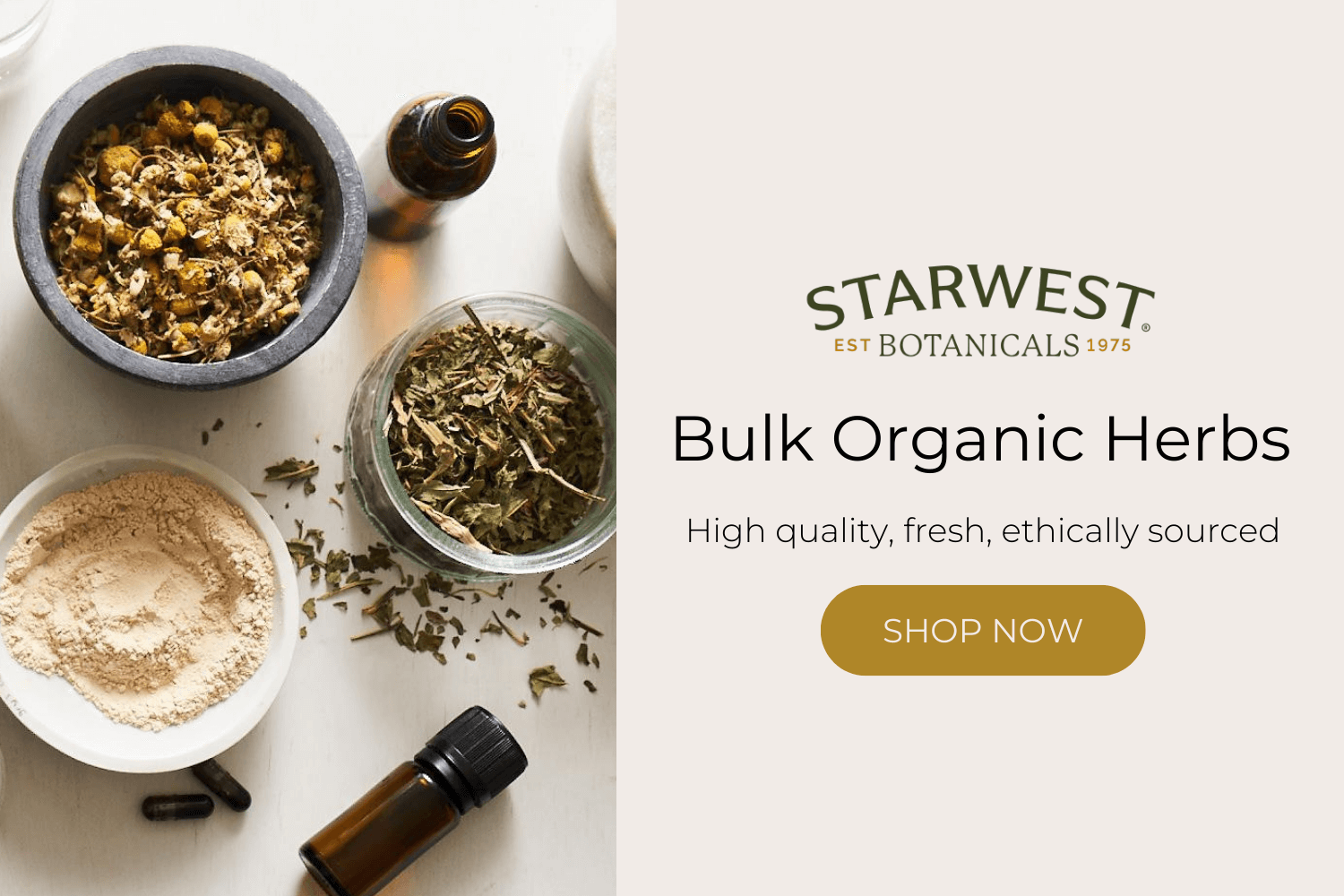 Level Up Your Sleep Routine with Starwest Botanicals
Achieving restful sleep is an important part of your mental health and wellbeing—and one that can affect almost every part of your waking life. If you're interested in a natural sleep aid, valerian root may be a beneficial ingredient to add to your sleep support routine.
At Starwest Botanicals, we provide premium botanicals, bulk spices, teas, and 100% pure essential oils to help you create a happy, healthy life for yourself. We also know exploring new organic herbs like valerian can feel intimidating. That's why we're committed to helping you learn about potential supplements so that you can feel empowered to choose what's right for you.
From our educational resources to the high quality of our products, you can trust Starwest Botanicals to help you live better—and sleep better.
Sources:
The American Journal of Medicine. Valerian for Sleep: A Systematic Review and Meta-Analysis. https://www.amjmed.com/article/S0002-9343(06)00275-0/fulltext
CDC. Sleep and Sleep Disorders. https://www.cdc.gov/sleep/about_us.html#:~:text=About%2070%20million%20Americans%20suffer,costs%2C%20and%20lost%20work%20productivity
Iranian Journal of Pharmaceutical Research. The Effects of Valerian Root on Hot Flashes in Menopausal Women. https://www.ncbi.nlm.nih.gov/pmc/articles/PMC3813196/
Neuropsychiatric Disease and Treatment. Valium without dependence? Individual GABAA receptor subtype contribution toward benzodiazepine addiction, tolerance, and therapeutic effects. https://www.ncbi.nlm.nih.gov/pmc/articles/PMC5973310/
Pharmaceutical Biology. GABA and l-theanine mixture decreases sleep latency and improves NREM sleep. https://www.ncbi.nlm.nih.gov/pmc/articles/PMC6366437/#:~:text=GABA%2Fl%2Dtheanine%20mixture%20led,in%20the%20arousal%20animal%20model.
National Center for Complementary and Integrative Health. Valerian. https://www.nccih.nih.gov/health/valerian