Posted by Daniel Powers on 06-06-2023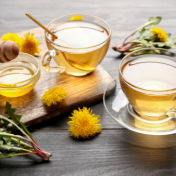 The Complete Guide To Making Dandelion Tea | Starwest Botanicals
Dandelion is a plant that's often maligned for infesting lawns during the spring and summer months. That said, this weed is a highly beneficial herb that may provide a variety of health benefits.
One of the most popular uses for this plant is to make dandelion tea. This tea, which is made with the root of the dandelion, not only tastes great, it also may benefit your health in a variety of ways, especially to help support healthy digestion and liver function.
If you're interested in the health benefits of dandelion tea, and want to try it for yourself, check out this helpful guide. And if you're interested in a source for certified organic dandelion, look no further than our full selection of dried dandelion herbs here at Starwest Botanicals.
Dandelion Overview:
Dandelion is part of the Asteraceae (daisy) family of plants. This plant is thought to have been originally native to Europe, but can now be found growing throughout the entire globe.
Dandelion is a nutrient rich herb. It contains both vitamins (A, C, E, K, and B) and minerals (calcium, magnesium, iron, copper, silicon, zinc, and manganese). Dandelions are also a good source of phytochemicals, including flavonoids, phenolic acids, and terpenes.
The part of the plant that's typically used for dandelion tea is the root. It's usually harvested fresh, cut into small pieces, and then dried down. That said, all of the various parts of the dandelion plant (leaves, flower) are edible and provide various benefits. In particular, dandelion leaves (or "greens") are commonly used as part of early spring salads.
In traditional folk medicine, dandelion was said to benefit the body through its ability to stimulate the appetite and help with digestion. It has also been used to help support the kidneys, liver, and gallbladder.
Benefits of Dandelion Tea:
Below are the various health benefits of dandelion tea.
You can read more about the benefits of dandelion in our in-depth article here.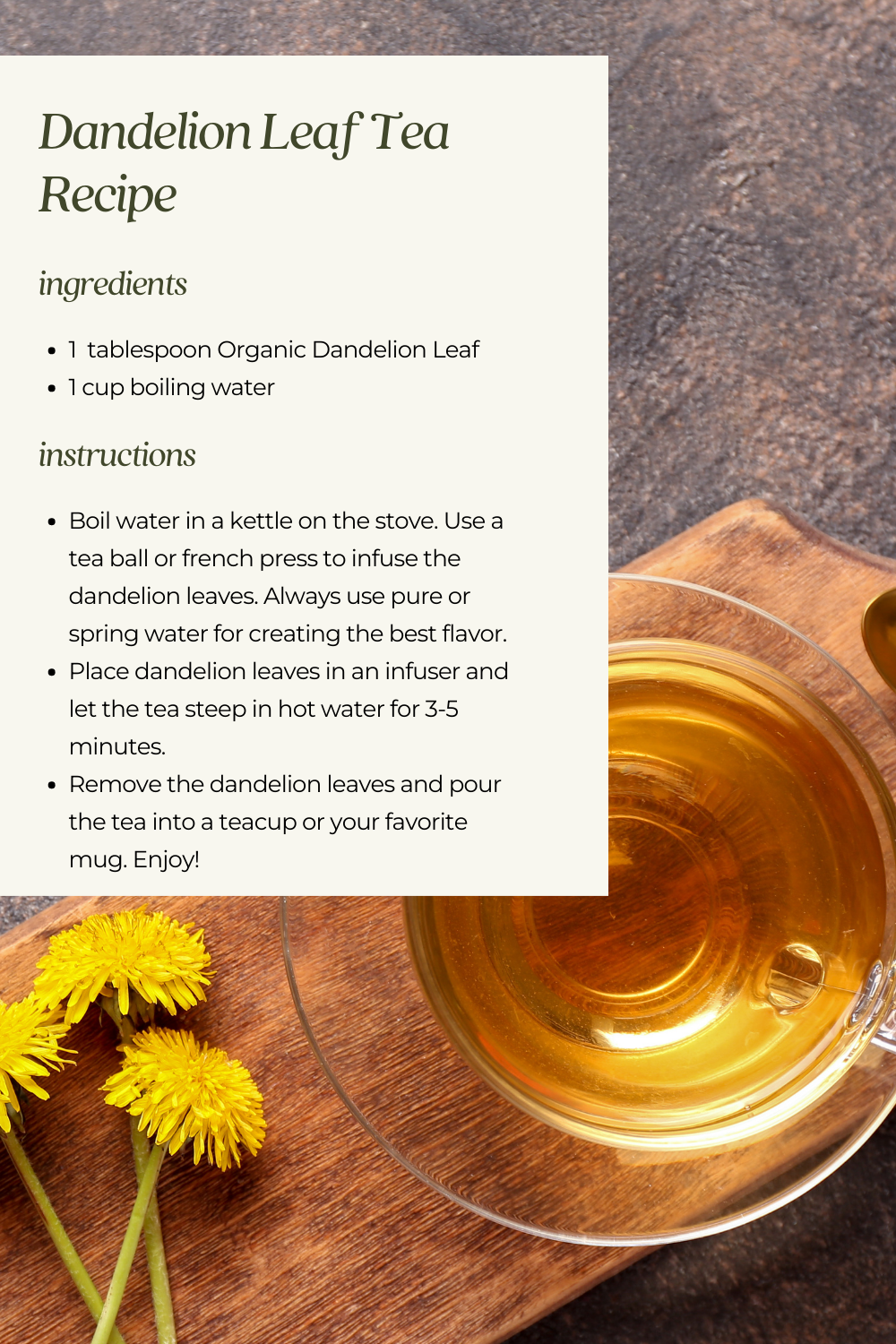 How To Make Dandelion Tea:
We have collected a handful of different dandelion tea recipes below for you to try. Whether you are looking for a basic dandelion tea recipe, or you want to get fancy and make a dandelion coffee substitute, we have you covered.
You can make dandelion tea with either the roots or flowers of the dandelion plant – in this article, we include recipes for both options. If you're looking for an easy dandelion tea recipe — follow these simple directions:
Dandelion Leaf Tea Recipe:
This is a great tea made with dandelion flowers. This has more of a floral, green tea flavor.
Ingredients Needed:
Instructions:
Boil water in a kettle on the stove. Use a tea ball or french press to infuse the dandelion leaves. Always use pure or spring water for creating the best flavor.
Place dandelion leaves in an infuser and let the tea steep in hot water for 3-5 minutes.
Remove the dandelion leaves and pour the tea into a teacup or your favorite mug. Enjoy!
Dandelion Root Tea Recipe:
Dandelion root has a different flavor profile compared to dandelion leaf. It has more of a nutty, malty flavor that is comparable to coffee.
Ingredients Needed:
Instructions:
Boil water in a kettle on the stove. Use a french press or infusing pot to infuse the dandelion roots. Use pure filtered water for creating the best flavor.
Place dried dandelion root in hot water and let the tea steep in hot water for 5-15 minutes.
Remove the dandelion root and pour the tea into a teacup or your favorite mug. Enjoy!
Notes:
Here at Starwest Botanicals, we sell roasted dandelion tea in pre-packaged tea bags. This is much more convenient for those of us with an 'on the go' active lifestyle.
How to Add Dandelion Tea To Your Lifestyle:
Dandelion is an easy herb to add to your wellness routine.
If you prefer more of a tea experience, consider making dandelion-leaf tea. It has lighter, grassy notes that are wonderful to drink solo or mixed with other herbs.
If you are looking for a natural coffee substitute, try adding roasted dandelion tea to the mix. It has a flavor profile that's similar to coffee. As an added benefit, dandelion is caffeine free, so it's a guilt-free beverage that you can drink all day long.
In Closing:
Nothing is quite as satisfying as a fresh cup of dandelion tea. With our dandelion tea recipe, you are covered the next time you decide to brew up a batch.
Dandelion tea is easy to make, making it a great option whether you're a well-seasoned tea drinker or a novice.
Dandelion tea is especially beneficial when used as a coffee substitute. In particular, roasted dandelion root provides a similar flavor profile to coffee – but without the caffeine.
Here at Starwest Botanicals, we offer a variety of dandelion products in bulk. Whether you're looking for dried dandelion leaves, dandelion roots, or a tea blend, we have you covered with our certified organic bulk dandelion at wholesale prices.
We also include dandelion in a variety of our specialty tea blends, including:
Have you tried dandelion tea before? What's your favorite way to add this beneficial herb to your diet?
Author Bio:
Daniel has a master's degree in herbal science from the Maryland University of Integrative Health. He's the founder of The Botanical Institute, where he writes about the health benefits of herbs.