Posted by Daniel Powers, MS on 01-10-2023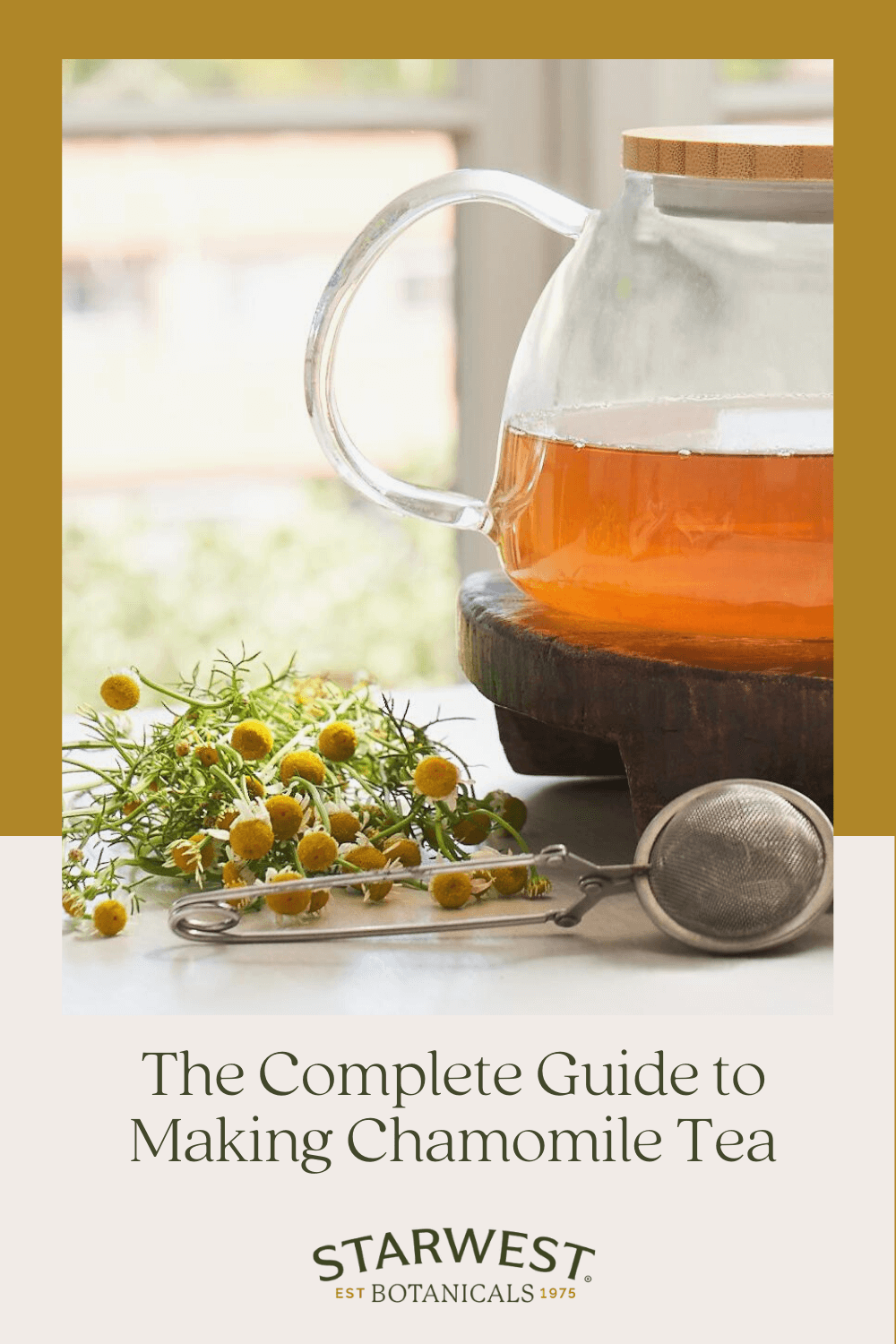 Chamomile tea is one of the most popular types of tea. It provides the double benefit of being delicious while potentially helping to improve sleep!
As a herb, chamomile has been used for millennia for its various health benefits. It was used by ancient societies (including the Romans and Greeks) to promote relaxation and support digestion.
Brewing your own chamomile tea is a delicious way to introduce this herb into your diet. Chamomile tea is easy to make, and its delicious taste goes well with other herbs (especially mint!).
If you want to relax with a delicious cup of chamomile tea, look no further. We have a collection of chamomile teas and blends right here at Starwest Botanicals!
Chamomile Overview:
Chamomile, which belongs to the Asteraceae family, is a plant identified by small white and yellow, daisy-like flowers on top of a long stem. The flowering tops of chamomile are the part that is used for tea.
Chamomile is loaded with phytochemicals, including:
sesquiterpene lactones (including nobilin and 3-epinobilin)
flavonoids (including apigenin and luteolin)
coumarins
and terpenoids
It's thought that these various plant chemicals provide different health benefits for the human body.
In this article, we refer to chamomile as a tea, but from a technical perspective, chamomile tea is actually a tisane. That is, it's a herbal tea that doesn't contain green tea (Camellia sinensis).
Two types of chamomile are used for brewing tea, including German Chamomile and Roman Chamomile. Either plant can be used interchangeably for making tea, however, it's noted that Roman chamomile has more of a bitter taste.
Chamomile Tea Flavor:
Chamomile tea is well known for its distinctive flavor. It has apple notes with a mellow, honey-like sweetness in the cup. It has a clean mouthfeel and delicate, floral notes.
Potential Health Benefits of Chamomile Tea
There are many potential benefits of chamomile. Below are the top research-backed chamomile benefits.
1. May Support Sleep
Sleep is key for health. Chamomile is a calming herb that may help to relax the mind and body.
Clinical trials have shown that chamomile may help to support better nighttime sleep. This confirms anecdotal evidence that many have reported of drinking a relaxing cup of chamomile tea before bed.
2. May Support Mental Relaxation
In addition to helping to support sleep, chamomile has also been used to support mental relaxation.
Onestudy found that chamomile helped to support mental health and relaxation. The researchers noted that chamomile appears to be an effective natural way to relax the mind.
3. May Support Digestive Health
For years, chamomile has been heralded as a natural digestive aid by those in the herbal community.
Chamomile may help to improve digestion by calming the smooth muscles in the digestive system. This is thought to reduce indigestion and improve regularity.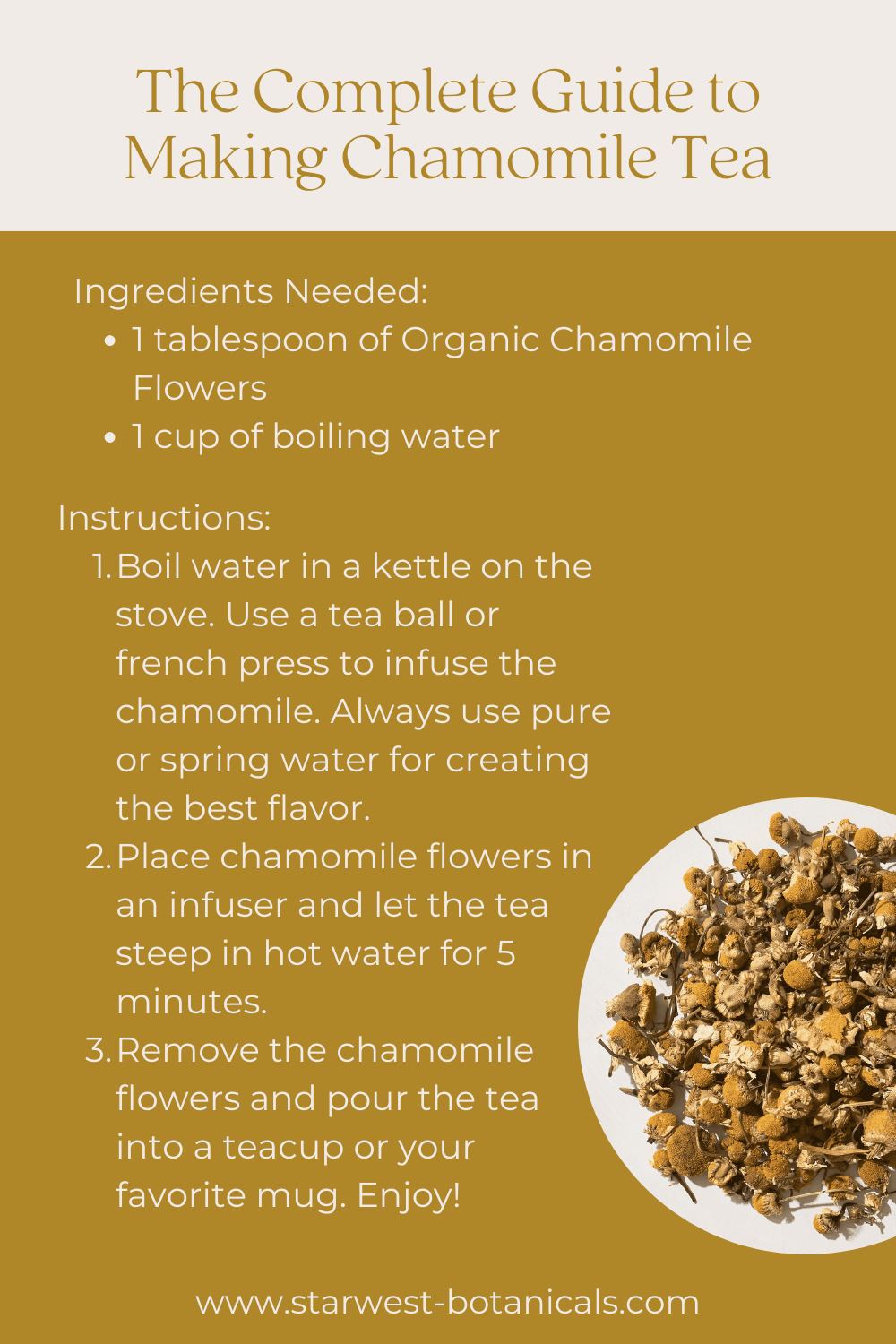 How To Make Chamomile Tea:
We have collected a handful of different chamomile tea recipes below for you to try. Whether you are looking for a basic chamomile tea recipe, or you want to get fancy and try a cold infusion, we have you covered.
1. Basic Chamomile Tea Recipe
This is a basic chamomile tea for first-timers. This is the perfect tea to make before bed!
Ingredients Needed:
Instructions:
Boil water in a kettle on the stove. Use a tea ball or french press to infuse the chamomile. Always use pure or spring water for creating the best flavor.
Place chamomile flowers in an infuser and let the tea steep in hot water for 5 minutes.
Remove the chamomile flowers and pour the tea into a teacup or your favorite mug. Enjoy!
Notes:
You can add other herbs to your chamomile tea for extra flavor and added benefits. A couple of favorites include mint, holy basil, and lavender.
If you steep chamomile tea too long, it will draw out strong bitter flavors. This can come as a shock at first as chamomile is often thought of as having a sweet, floral flavor.
2. Chamomile Cold Brew Infusion Recipe
This is a fun spin on traditional chamomile tea. Instead of drinking hot tea, consider trying a chamomile cold brew! This recipe is made by slowly infusing chamomile in cold water in your fridge.
Ingredients Needed:
Instructions:
Add chamomile to a large tea ball (or add to a French press basin). If using a tea ball, place it inside a glass pitcher.
Fill the pitcher (or French press) with water.
Cover the pitcher (or French press), place in the fridge, and allow to steep for 8 hours (or longer).
Pour into a glass with ice and enjoy!
Notes:
You can add other herbs to this cold infusion. Having exact timing isn't important; the chamomile flowers can stay in the water for up to a few days if desired.
This tea lasts up to one week when stored in a fridge.
In Closing:
There's nothing quite as delicious and satisfying as homemade chamomile tea. You'll brew up the perfect batch every time with these great tips and recipes.
Chamomile tea is easy to brew, making it a good option whether you're an expert tea drinker or a novice. Brew up a hot version to warm up and unwind or relax with a refreshing glass of iced chamomile tea.
Chamomile tea is especially beneficial when taken around bedtime as it may help to support deep, restful sleep.
Here at Starwest, we offer a variety of chamomile products. Whether you're looking fordried chamomile flowers,essential oils, or a done-for-youchamomile flower extract, we have you covered with certified organic bulk chamomile flowers.
Have you tried chamomile tea before? What's your favorite way to add this beneficial herb to your diet?
Author Bio:
Daniel has a master's degree in herbal science from the Maryland University of Integrative Health. He's the founder ofThe Botanical Institute, where he writes about the health benefits of herbs.