Posted by Starwest Botanicals on 08-21-2023
More consumers than ever are seeking ways to enhance their wellness and self care routines. Reducing stress and making sure to get enough sleep are the keys to creating calm. So how do botanicals fit into these calm-inducing routines? Small practices incorporated into daily routines can have a big impact. Two simple ways to incorporate the power of botanicals into your stress and sleep management routines are through aromatherapy and herbal drinks.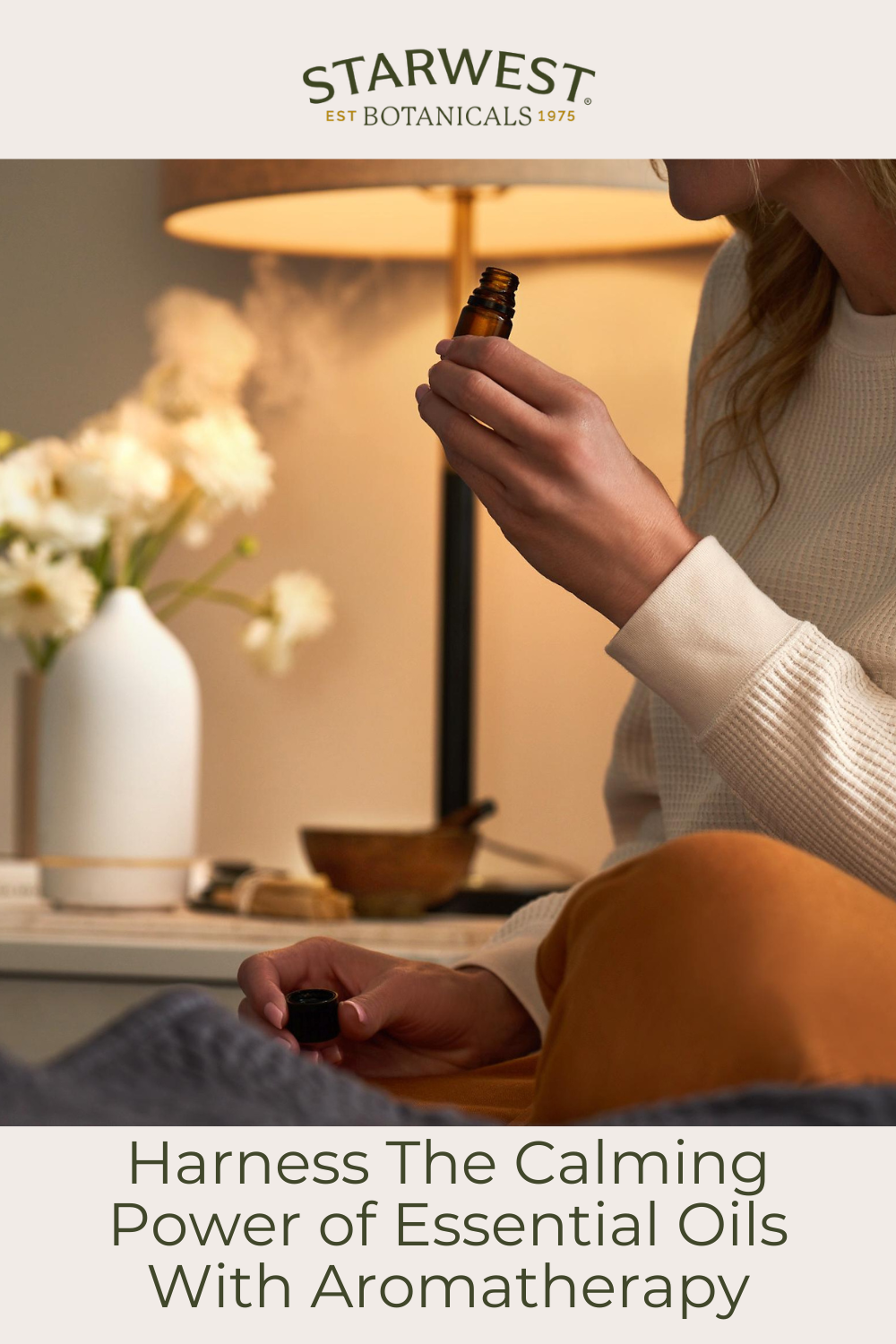 Harness The Calming Power of Essential Oils With Aromatherapy
According to Mintel research on sleep benefits, adults ranked improved energy, stress relief, and improved mood as the top benefits of sleep.
Consumers are recognizing the need to recharge the mind and body to achieve wellness. Aromatherapy is a natural, essential-oil-based therapy that harnesses the scent of botanicals to calm the mind.
Essential oils can be used with aromatherapy diffusers or in body care recipes. They can be mixed with coconut oil and applied to feet or pulse points at bedtime. We encourage exploration and testing of different aromas to discover personal preferences.
Get Started With These Essential Oils For Aromatherapy
Lavender may promote powerful calming and relaxing properties which may help ease stress, tension and worry. It has a herbaceous, sweet, floral aroma imparting a clean and soothing fragrance.
Chamomile may provoke a warm, soothing feeling to help alleviate feelings of worry. It has a bright, crisp, sweet, fruity, and herbaceous scent.
Clary Sage may help evoke a soothing, calming and balancing effect. It has a bitter-sweet floral aroma with a slightly fruity and musky scent.
A regulating and harmonizing therapeutic blend designed to help calm the mind and body and may help ease stress. Includes the best oils to invoke a comforting feeling: Lavender Flower, Geranium, and Clary Sage.
Unearth The Power of Herbal Drinks
For Relaxation
Mintel reports that mental wellbeing is a growing health trend as consumers look for ways to find moments of relaxation and comfort. They point to a new market opportunity and the expectation for growth in products that support stress reduction and relaxation in the beverage space. Along with health benefits, the same Mintel report points out how tea offers possibilities to create interesting taste experiences, and particularly how botanicals can add a touch of surprise in terms of both taste and aesthetic.
One herbal drink that's growing in popularity is moon milk, an Ayurvedic drink that has sleep-promoting properties. It's made with milk (either plant or dairy) and contains different herbs and spices, such as Blue Pea Tea or turmeric, which can create surprising color effects. Its main ingredient is ashwagandha, an adaptogenic botanical ingredient said to have relaxing benefits.
Get creative and blend herbs together, or mix herbs and spices, for an even more powerful drink to promote a state of calm.
Get Started With These Herbal Teas For Relaxation
Chamomile is one of the most ancient medicinal herbs we know of. It has traditionally been used as a therapeutic agent for a variety of ailments, including promoting rest and tranquility. It makes a tasty, comforting tea that is perfect any time of the day you want to unwind.
Lavender is one of the most widely loved fragrances in the world. It has been traditionally used to help calm nerves, improve sleep, and help with overall relaxation. It boasts a distinctive crisp, fresh, and piney flavor. Brew the lavender flowers and drink as a tea, or put lavender flowers in a sachet and place under your pillow to help with a restful sleep.
Passion flower is primarily utilized for its calming properties, and may help with insomnia and anxiety. Passion flower tea has a mild, pleasant flavor with a grassy earthiness and floral note, and can be sweetened with honey. It is often combined with other soothing herbs in tea blends. For a peaceful sleep, try sipping a cup of passion flower tea right before bed.
This tea is a tasteful blend of mint and citrus fruit flavors, blended with aromatic chamomile flowers and elderberries. The chamomile adds a therapeutic, relaxing agent; the elderberries give that additional boost to help support your immune system.
The Quest For

Calm Continues
The path to calm is through daily practices that support stress management and healthy sleep routines. Incorporating routines such as aromatherapy and drinking herbal teas are just a couple ways to address the ongoing need for self care.
We expect calming botanicals to continue to trend as consumers' quests for natural solutions for stress management and sleep support continue. Food, beverage, and wellness products can include formulations that pair functional ingredients with soothing aromas to offer these much needed and highly sought calming benefits.
How can you incorporate calming botanicals into your product lineup to take advantage of their natural benefits while meeting this growing consumer need?