Posted by Starwest Botanicals Content Team | Medically Reviewed by Daniel Powers, MS on 07-26-2022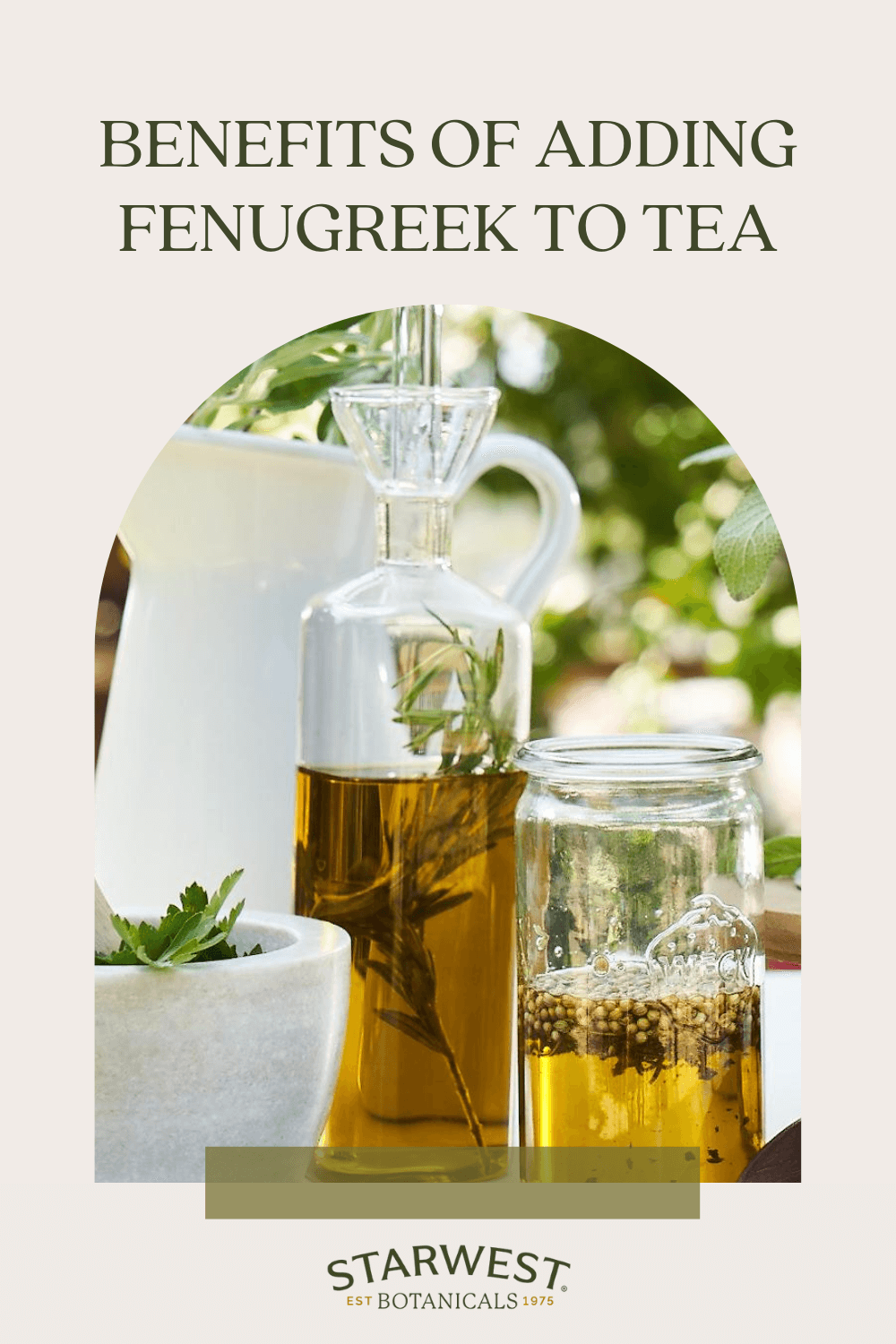 Renowned for its sweet, maple syrup-like flavor, fenugreek plant, also known as Methi seeds or Greek Hay, is an herb indigenous to southeastern Europe and Western Asia. For centuries it's been a popular cooking spice in a variety of Indian dishes, from curries and sauces to beverages like tea.
But it isn't just fenugreek's syrupy flavor that makes it such an incredible addition to mealtime. Outside of the kitchen, fenugreek has a long history in traditional medicine as a natural remedy that supports overall wellness. And many people put fenugreek in tea with some honey, milk, fennel seeds, or lemon juice to reap its potential health benefits with every sip.
Curious about the potential benefits of fenugreek tea? Keep reading to learn more.
#1 May Help Support Heart Health
One of the biggest potential fenugreek seed tea benefits is what it may be able to do for your heart health—and thus the entirety of your body.
In trial testing, fenugreek helped to support healthy choleseterol levels.
This suggests a link between fenugreek tea and heart health.
#2 May Aid in Digestion
Tummy troubles got you down? One of the benefits of fenugreek seed is potentially helping soothe aching stomachs, aid digestion, and improve your overall stomach health.
How?
Fenugreek seeds are chock full of fiber and other antioxidants that are great for your gut. What's more, fenugreek benefits may even include easing stomach discomfort, occasional constipation, and indigestion, according to recent studies.
#3 May Support Weight Management
If you're interested in a natural way to manage your weight, fenugreek in tea may offer the help you need. One study found that fenugreek may have played a role in decreasing the daily fat intake of people who consumed a small amount of fenugreek extract daily.
But what is the connection between fenugreek and your weight?
Further study is needed, but the prevailing thought is that ingredients in fenugreek, primarily the water-soluble fiber known as galactomannan, may act as a mild appetite suppressant, which may encourage healthier eating habits.
For example, in that same study, participants not only reduced their fat consumption, but they also reduced their caloric consumption by about 12% while taking fenugreek.
#4 May Help To Support Healthy Blood Sugar Levels
There's research that indicates that fenugreek may be beneficial in lowering your blood glucose levels.
A 2015 study found that fenugreek may help to support healthy blood sugar levels. It's believed that fenugreek can help stabilize fasting glucose levels and help the human body manage glucose.
Additionally, that same study suggests that fenugreek, including fenugreek in tea, may be able to balance blood sugar levels by regulating insulin levels within the body.
#5 May Boost Cognitive Health
Rounding out this list of potential fenugreek tea benefits is fenugreek's neuroprotective properties, which may help support your cognitive health.
In clinical studies, extract from the fenugreek seed was linked to the suppression of a specific enzyme known as acetylcholinesterase that breaks down neurotransmitters.
High-Quality Fenugreek at Starwest Botanicals
Adding high-quality fenugreek to your tea may promote full-body wellness by supporting immune, digestion, brain, and heart health. Learn more here on how to use fenugreek.
For organic fenugreek seed powder that easily mixes into tea, look to Starwest Botanicals. Visit our blog post to learn how to use fenugreek powder for better health.
Since 1975 we've been connecting people like you with high-quality, organic herbs, spices, herbal tea, dietary supplements, and more, all with a 100% quality guarantee. From fenugreek tea to fenugreek powder, fenugreek seed extract, supplements, and more, Starwest Botanicals has what you need to feel your best.
Shop now and receive free shipping on orders of $75 or more.