Posted by Daniel Powers on 08-25-2023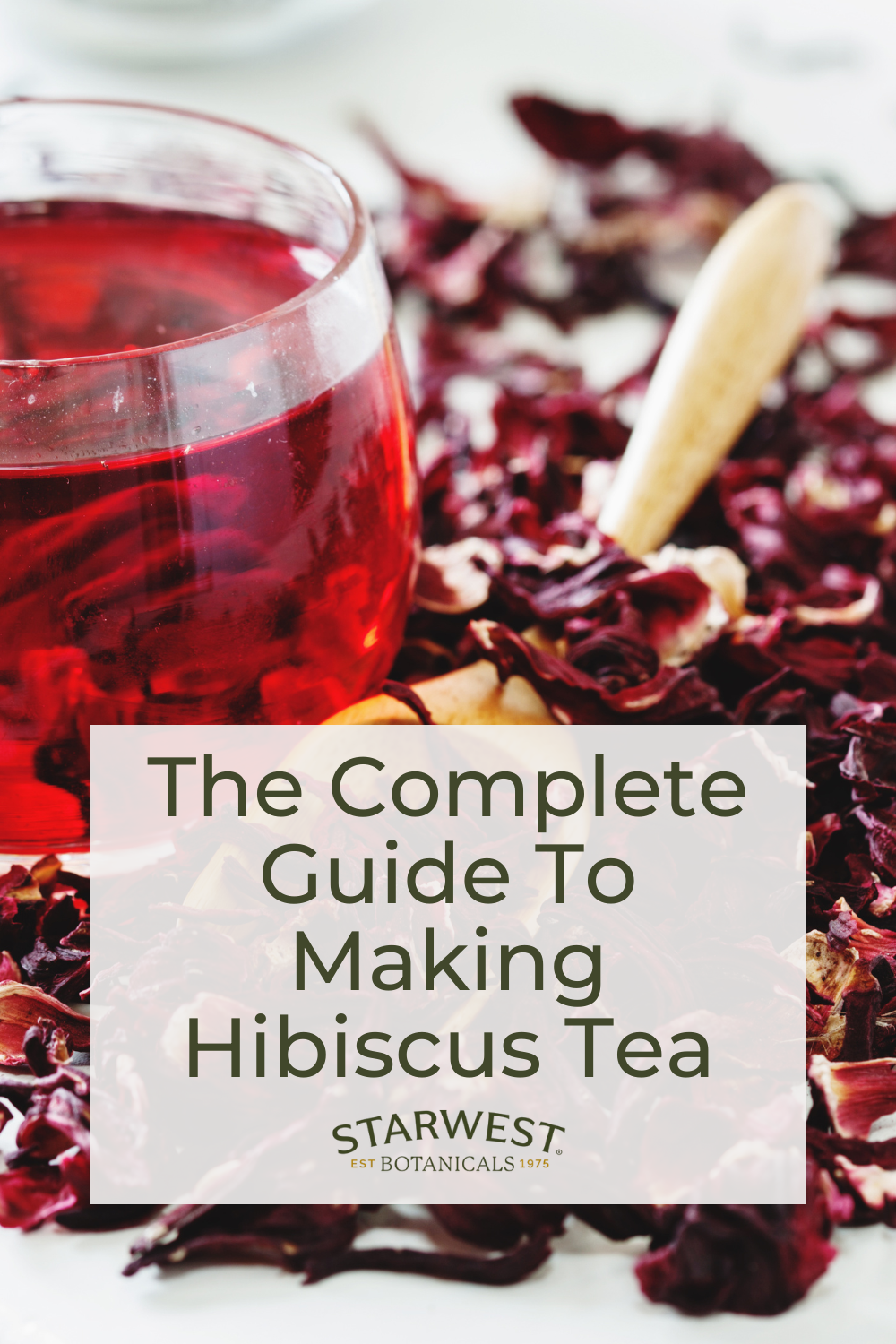 Known for both its beauty as a flower and for its health benefit, hibiscus does it all.
One of the most popular uses for this plant is to make hibiscus tea. This tea, which is made with the calyxes of the hibiscus flower, not only tastes great, it may also benefit your health in a variety of ways.
If you're interested in the health benefits of hibiscus tea, and want to try it for yourself, check out this helpful guide. And if you're interested in a source for certified organic hibiscus, look no further than our full selection of dried organic hibiscus here at Starwest Botanicals.
At Starwest Botanicals, we have a variety of different forms of hibiscus available for purchase, including:
Hibiscus Overview:
Hibiscus, a beautiful and vibrant flower, has long been celebrated for its health benefits. This plant, scientifically known as Hibiscus sabdariffa, has a rich history of use as a herbal remedy in various cultures worldwide.
Its health benefits stem from its abundant phytochemical content, including
phenolic acids
flavonoid
and anthocyanins.
This herb is native to West Africa and is believed to have originated in the region around Sudan and Egypt. From its African origins, hibiscus spread to various parts of the world through trade and exploration.
Today, hibiscus is cultivated and grows in many countries across different continents. It thrives in tropical and subtropical regions with warm temperatures and well-draining soil. Some of the major hibiscus-producing countries include China, Thailand, Indonesia, Egypt, Saudi Arabia, Nigeria, and Mexico.
In traditional medicine, hibiscus has been used in different cultures for a wide range of health conditions, including digestive issues, skin problems, and heart health. Its rich phytochemical content, particularly the antioxidants and bioactive compounds, contributes to its potential health benefits.
Benefits of Hibiscus Tea:
Below are the various potential health benefits of hibiscus tea.
Rich in Antioxidants – Hibiscus provides potent antioxidant benefits due to its abundance of phenolic acids, flavonoids, and anthocyanins. These compounds combat free radicals, reducing oxidative stress and supporting cellular health and immune function.
Cardiovascular Support – Research links hibiscus to cardiovascular support and maintaining healthy cholesterol levels within the normal range. In particular, a multi-stage study showed hibiscus powder extract may support cholesterol health and other health markers.
You can read our in-depth review of the benefits of hibiscus here.
How To Make Hibiscus Tea:
We have put together an easy-to-make hibiscus tea recipe below for you to try.
Hibiscus has a mildly sour taste with floral and fruity undertones, resembling tart fruits like pomegranate or cranberry. It pairs well with lavender, mint, rosemary, and thyme.
If you're looking for an easy hibiscus tea recipe — follow these simple directions:
Hibiscus Tea Recipe:
Ingredients Needed:
Optional Ingredients:
Natural sweetener of choice (honey, maple syrup, etc..)
Other herbs (mint, basil, and lemon balm all pair well with hibiscus)
Fresh lime
Instructions:
Place hibiscus flowers and water in a pot. Bring water to a boil. Once the water starts boiling, switch off the heat and cover it with a lid. At this point, you can also add other herbal add-ins (like basil or mint).
Let the tea steep for 15-20 minutes.
Strain the tea. If desired, you can add sweetener to hibiscus tea. Simply add a teaspoon or two of your favorite sweetener, whether it be honey, coconut sugar, or maple syrup.
Serve hot, or allow to cool and drink over ice (either way is delicious)
Notes:
The basic ratio is 3 tablespoons of dried hibiscus to every cup (8oz) of water. Scale up or down depending on your needs. I like to make a large batch and then keep the extra hibiscus tea in a pitcher in the fridge.
Don't over-steep hibiscus, it can lead to an unpleasant, bitter flavor.
Here at Starwest Botanicals, we include hibiscus in various pre-packaged tea blends. It's included in our following tea blends:
Whether you use a pre-made hibiscus tea bag or loose-leaf tea, hibiscus makes for a delicious tea.
Potential Allergen Warning:
Hibiscus may be intercropped with peanuts. May contain peanuts or shell fragments. If you have a peanut allergy, it's best to look for a certified peanut-free hibiscus source.
How to Add Hibiscus Tea To Your Lifestyle:
Hibiscus is an easy herb to add to your wellness routine. It makes an excellent cup of tea (or, to be precise, tisane) that has a delicious, cranberry-like flavor.
Adults should not consume more than two quarts per day. Children and pregnant women should limit their intake to one quart per day or less.
In Closing:
Nothing is quite as satisfying as a fresh cup of hibiscus tea - especially on a hot summer day. With our hibiscus tea recipe, you are covered the next time you decide to brew up a batch.
Hibiscus tea is easy to make, making it a great option whether you're a well-seasoned tea explorer or new to tea.
Hibiscus tea is especially beneficial when used as a soda substitute. In particular, it can provide a fresh, tangy flavor profile without all of the sugars that a typical soft drink may contain.
Here at Starwest Botanicals, we have a variety of different forms of hibiscus available for purchase, including:
Consider picking up a bag of these tea blends, or make your own!
Have you tried hibiscus tea before? What's your favorite way to add this beneficial herb to your diet?
Daniel has a master's degree in herbal science from the Maryland University of Integrative Health. He's the founder of The Botanical Institute, where he writes about the health benefits of herbs.